WAMcon Recording Arts Conference
About WAMcon:
WAMcon is an interactive recording conference series for women and gender-expansive individuals presented by Women's Audio Mission with support from groups like Dolby, Disney, Spotify, Universal Music Group, Capitol Studios, YouTube, The Recording Academy, iZotope, Shure, sE Electronics, Universal Audio, Sweetwater, and more. WAMcon was offered live in Nashville, Los Angeles, and New York in 2019. In response to the global pandemic, WAMcon went completely virtual in 2020 and 2021, reaching 700+ attendees in over 15 countries.
"These events shatter the illusion that women and POC aren't occupying these roles, and they spark so much inspiration!! Thank you!" – Attendee Feedback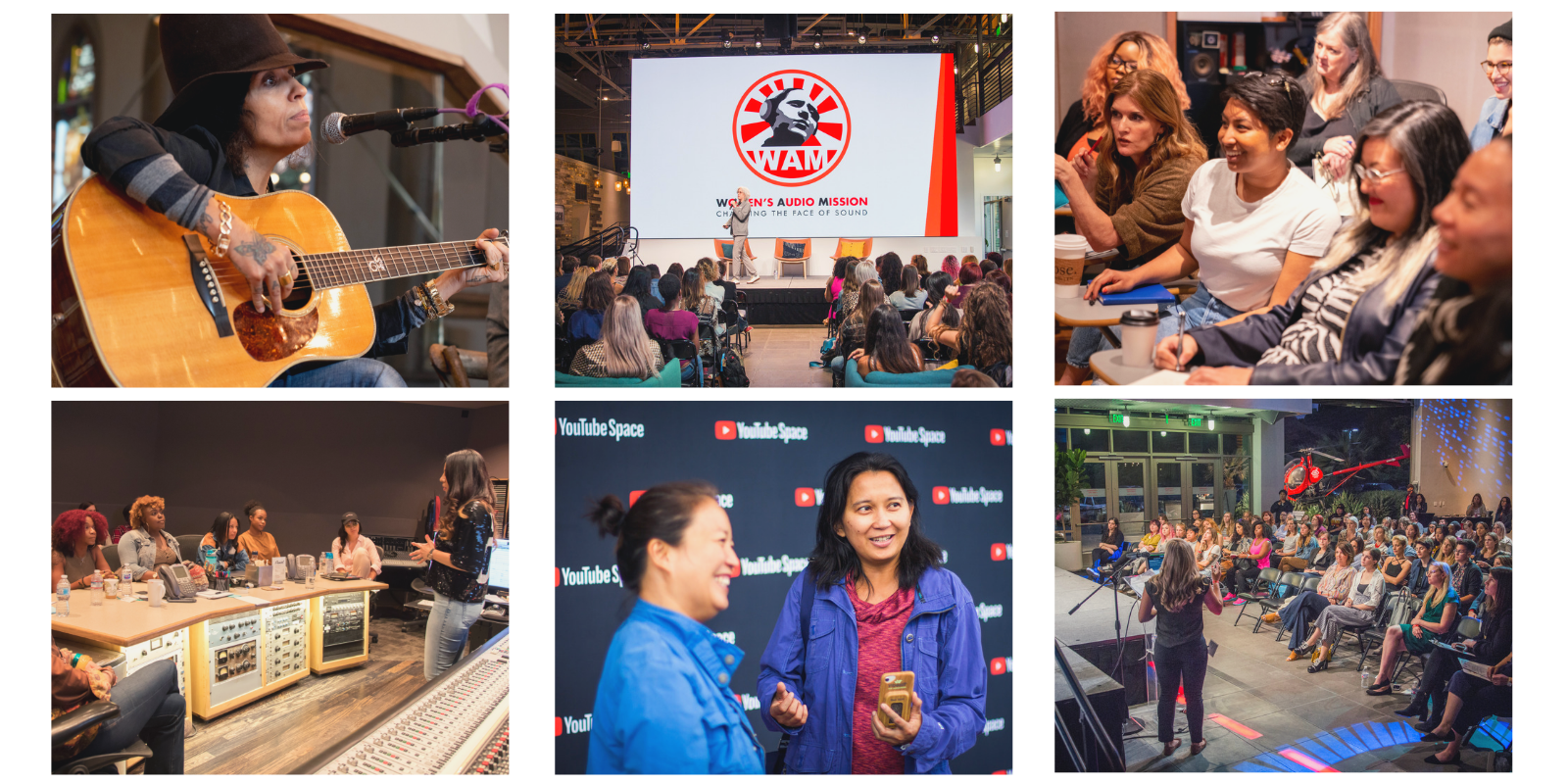 WAM's immersive experiences feature top leaders in the industry, including award-winning music producers, recording engineers, songwriters, beatmakers, and record executives involved in making the music you love the most! Workshops and discussions cover topics like recording techniques, mixing, mastering, vocal production, songwriting (including demo feedback), beatmaking, the music business, music licensing, and more. Our Sound for Picture conferences features Oscar and Emmy-winning post-production sound professionals for animation, film, TV, and games and cover topics like sound design, production sound, dialog and music editing, and re-recording mixing.
"Gear gab + studio tours + remix demos + honest, vulnerable truth-telling. That's WAMcon." –  Attendee Feedback
Since 2017, WAM has hosted eleven WAMCon conferences, including:
WAMCon Los Angeles (Fall 2022) a two-day event

at one of the world's most legendary recording studios and venues, the Record Plant!

WAMCon Virtual Nashville (Spring 2022) a two-day event featuring Nashville producers, songwriters, engineers, and professionals in radio and live events!
WAMCon Virtual Los Angeles (Summer 2021) a two-day event with a sound for picture focus featuring LA professionals in film, TV, and game audio!
WAMCon Virtual Nashville (Spring 2021) a one-day event featuring Nashville producers, engineers, and artists!
WAMCon Virtual (Fall 2020) our second virtual conference featuring expanded speaker line-up, artist performances, and networking, reaching 250+ attendees in 13 countries
WAMCon Virtual (Summer 2020) our first online conference reaching 350+ attendees in 10+ countries 

WAMCon New York (2019) at New York University's Steinhardt School, Department of Music and Performing Arts Professions, The Cutting Room, and other locations
WAMCon Los Angeles: Sound for Picture (2019) at YouTube Space LA, Disney Animation Studios, Dolby Laboratories Screening Room, and The Ace Hotel Los Angeles
WAMCon Nashville (2019) at Ocean Way Nashville Studios and The Tracking Room Studios
WAMCon New York (2018) at YouTube Space NY, Jungle City Studios, and the Center for Social Innovation
WAM at Capitol (2018) at Capitol Studios in Los Angeles
WAMCon Boston (2017) at iZotope and PRX Podcast Garage
---
To date, WAM's conferences have reached over 1200 emerging women producers, engineers, and musicians. WAMCon has featured such presenters as: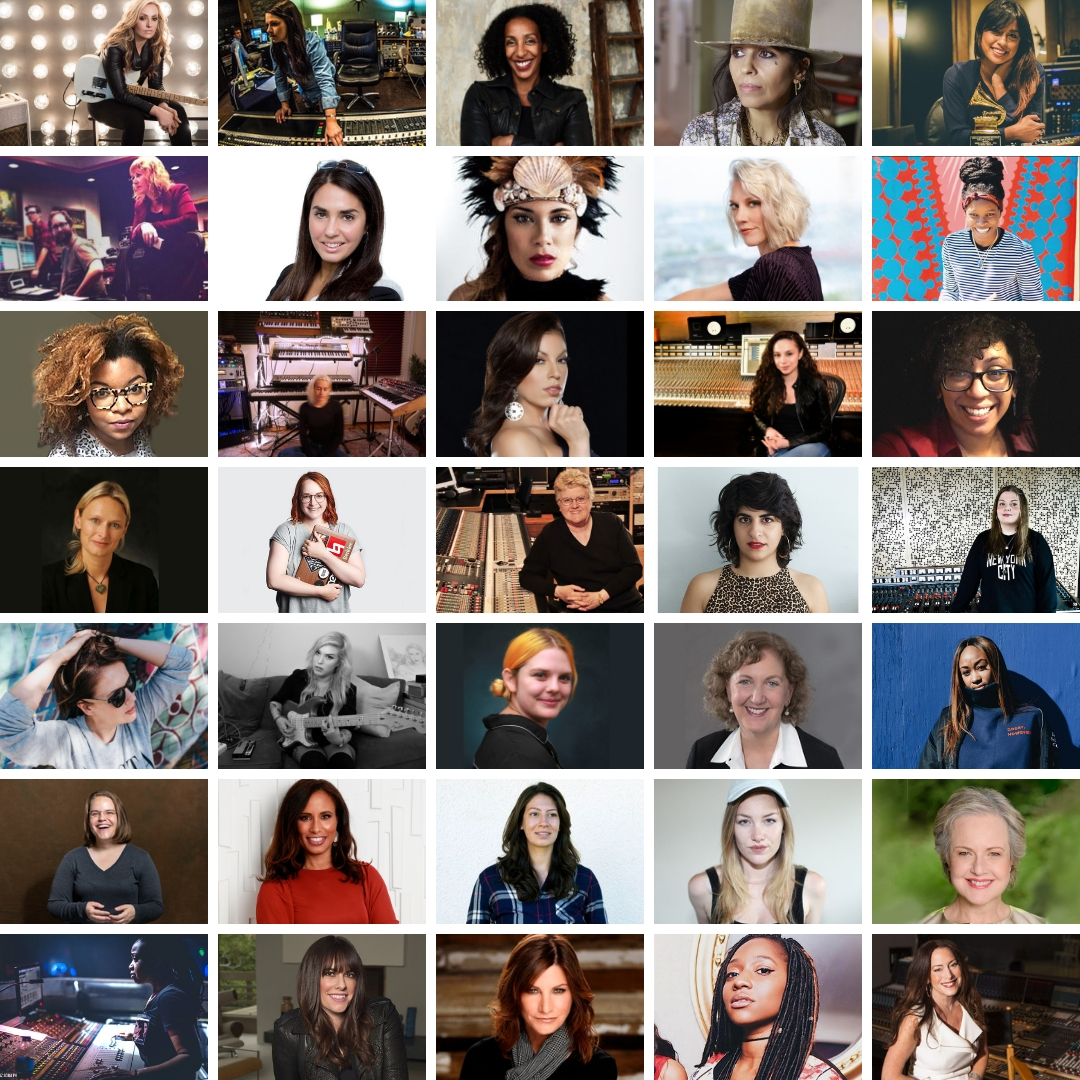 Linda Perry, Songwriter and Music Producer (P!nk, Adele, Alicia Keys)
Emily Lazar, GRAMMY-winning Mastering Engineer (David Bowie, Foo Fighters, Beck)
Leslie Ann Jones, GRAMMY-winning Recording Engineer and Producer (Skywalker)
Berenice Robinson, VP, Post-Production, Walt Disney Animation Studios
David Fluhr, Re-Recording Mixer, Walt Disney Animation Studios
Jurgen Scharpf, Lead Audio Mixer, Dolby Laboratories
Clare Dunn, MCA/UMG Nashville Recording Artist/Musician
Michelle Jubelirer, COO of Capitol Records
Julie Swidler, Executive VP, Business Affairs and General Counsel for Sony Music
Samantha Kirby Yoh, Partner & Head, East Coast Music at William Morris Endeavor
Marcella "Ms. Lago" Araica, Mixing Engineer (Beyoncé, Madonna)
Laura Escudé (Alluxe), Producer, Controllerist, and Live Show Designer (Kayne West, Jay-Z)
Simone Torres, Vocal Producer and Engineer (Sia, Cardi B, Dua Lipa, Usher, Sean Garrett)
Chiquita Paschal, Podcast Producer and Arts Journalist (Gimlet, BuzzFeed, NPR)
Haley Shaw, Composer, Sound Designer (Gimlet Media, CBC, This American Life)
Ann Mincieli, Producer, Engineer, Owner of Jungle City (Alicia Keys, Jay-Z, Drake, Mariah Carey)
Shani Gandhi, Music Producer and Engineer (Alison Krauss, Old Crow Medicine Show, Jewel)
Annie Huang, Re-Recording Mix Technician, Walt Disney Animation Studios
Fabienne Rawley, Editor, Walt Disney Animation Studios

Kendall Demarest, Associate Music Editor, Walt Disney Animation Studios

Gena Johnson, Recording Engineer (Brandi Carlile, Kacey Musgraves)
Kerri Hoffman, CEO of Public Radio Exchange (PRX)
Erin Tonkon, Music Producer and Engineer (David Bowie, Esperanza Spalding)
Melissa Peirce, Songwriter, Disney (Carrie Underwood, Reba McEntire, Garth Brooks)
Rachael Moore, Engineer, Sound Emporium (Trisha Yearwood, Garth Brooks, Kelly Clarkson)
Jordan Brooke Hamlin, Songwriter/Producer, MOXE (Indigo Girls, Lucy Wainwright Roche)
Amanda Davis, Front of House Engineer (Janelle Monáe, Chloe X Halle)
Michel'le Baptiste, Professional Drummer (Fifth Harmony and Beyoncé)
Paula Salvatore, VP/Studio Manager of Capitol Studios
Blush, Singer, Songwriter, and Vocal producer (Meghan Trainor, Disney)
Jennifer Baltimore, Senior VP of Business and Legal Affairs of Universal Music Group
Jennifer Decilveo, Songwriter/Producer (Andra Day, Beth Ditto, Bat for Lashes)
Hero Wooching, Vocalist and Performer (Lukas Nelson, Will.i.am, Black Eyed Peas)
Tracy Gershon, Head of Publishing, Atlas Music Nashville & One Riot Music; Manager, Red Light
Leslie Lee Fram, Senior VP of Music & Talent, CMT
Kristina Tunkrans, Chief of Music, Epidemic Sound
Susan Rogers, Producer and Engineer; Director, Berklee Music Perception & Cognition Lab
Kate Finan, Owner, Supervising Sound Editor, and Re-Recording Mixer, Boom Box Post
Katie Maynard, Sound Editor, Boom Box Post
Maria Rice, GRAMMY-nominated Mastering and Restoration Engineer
Amory Sivertson, Producer of New Programming for WBUR
Erin Barra, Educator, Producer, Songwriter, Multi-Instrumentalist (Berklee, Ableton)