Become a Member or Ally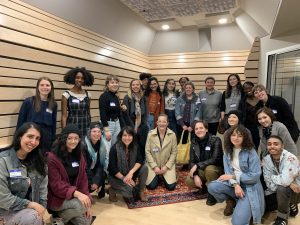 Are you passionate about changing the face of sound? Join us as a member and become part of a global network working tirelessly to increase the gender balance in audio!
Student and Professional Member Levels are for anyone who is woman-identified (transgender or cisgender), non-binary, or gender non-conforming.
Student pricing is meant for anyone enrolled in classes or training at any educational institution (high school, community college, university, trade school, alternative study, etc); the benefits are the same.
If you don't fall into those categories, please join us as a WAM Ally and show your support for WAM's programs and initiatives. Unfortunately, we are unable to extend membership benefits to our Ally Members at this time. We thank you for your support of Women's Audio Mission.
Professional/Student Member Benefits include:
Connection to over 1,200 women audio professionals from around the world
Deep discounts to all WAM ticketed events, including WAMCons and trainings
Special offers and discounts from industry partners
Full access to the latest job opportunities on WAM's job board
By signing up for a membership, you will also be added to WAM's general and member mailing lists! Our biweekly newsletter contains updates on new WAM classes, conferences, events, recording studio and staff happenings, and more! WAM's member job board e-blast contains audio job and gig opportunties from all over the Bay Area and beyond directly to your inbox. You may opt-out at any time by clicking 'unsubscribe' on the bottom of the most recent newsletter.