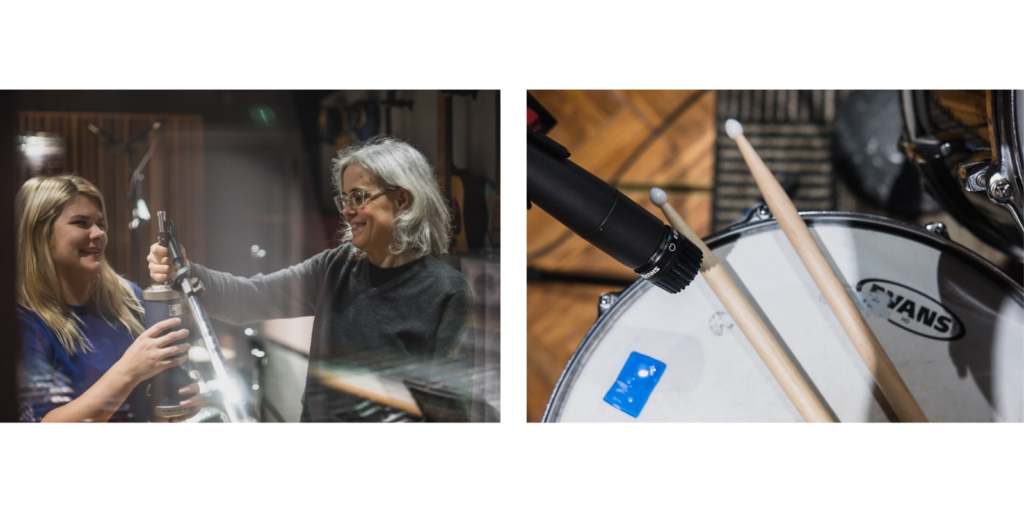 WAM's recording studio is now open for limited sessions starting on July 1st, 2020. We will be able to host sessions that comply with social distancing protocols. WAM is practicing new cleaning protocols before and after each sessions. If you have any questions about recording at WAM's studio, please email us at studio@womensaudiomission.org
STUDIO RENTAL POLICY:
In order to book a session, you must use a WAM-certified engineer. You can find our Staff and Guest Engineers on this page. This studio has subsidized (low) rates because we are a non-profit organization with a mission to advance women in the recording industry by providing women with opportunities to earn professional engineering credits. Please respect this policy. Outside producers are welcome, but the actual engineering (setting up microphones, touching the gear, turning the knobs, etc.) must be performed by a WAM-certified engineer.
HOW DO I BOOK A SESSION?
First, e-mail at studio@womensaudiomission.org or call (800) 926-1338 ext. 1. It will help expedite the process if you submit the WAM Session Information Form online or have the information handy when you call. Once the amount of session time is assessed, we will get back to you on available dates and engineers.
STUDIO DAY RATE (includes a WAM engineer):
$450/day: up to 10 hours, starting at 9 AM.
This includes any load-in, load-out and set-up time. This also includes the time it takes to back up files after a session.
This is also the lock-out (you leave everything set up) rate if you are booking multiple full days in a row.
HALF-DAY RATE (includes a WAM engineer):
$250: either 9am – 2pm, 2pm – 7pm, or 5pm – 10pm
This includes load-in, load-out and set-up time, as well as the time it takes to back up files after a session.
HOURLY RATE (includes a WAM engineer):
$75/hr with a 2 hour minimum
2 hour studio sessions allow for recording a maximum of 1.5 hours worth of content. We must allocate for the remainder of your studio time for set up, tear down, and file transfer.
If you plan on recording more than 1.5 hours worth of content, please book 3 or more hours in the studio.
LOAD-IN and SESSION START TIME:
Your engineer will communicate your load-in time to you. For full-day sessions, it is typically 9am. DO NOT come early or the evening/day before with the intention of loading in or setting up early. Setting up is part of the engineering of a session, and we cannot accommodate load-ins that are not scheduled–make sure this is communicated to all parties in your session. We are also an educational facility, and we cannot interrupt workshops, classes or other activities to accommodate an early or non-scheduled arrival.
DEPOSIT & SESSION PAYMENTS:
We require a $50 deposit per session to reserve a date. This amount applies toward your total studio bill. Your session date(s) will not be secured until we receive payment. You can pay your deposit online HERE.
Full payment for your session is due at the end of the last day of the session. You will be emailed an invoice and can pay it online or by check. WAM will retain ownership of and will not release any CDs, DVDs, tapes, files, hard drives, mixes, etc. until full payment is received.
SESSION CANCELLATION/RESCHEDULING POLICY:
If you cancel or re-schedule a session less than one week from the first day of your booked session dates, you will lose your deposit–it will not be refunded.
If you cancel within 24 hours of your session start time, or do not show up to your session, you will lose your deposit and will owe half of your total studio bill.
SESSION ATTENDANCE:
Please limit your session's attendance to the band/performers only. It makes sessions run much more smoothly and will lessen the interruptions of getting people in and out of the studio. If you plan on having more than 5 people at your session please let us know in advance so we can talk about strategies for making the session run smoothly.
CAN WE GET A TOUR OF THE STUDIO?
Sorry, at this time we do not have the staff to provide studio tours on demand – we cannot interrupt our clients' recording sessions. However, we have quarterly open houses which you are welcome to attend for a brief tour. To find out when our next open house is, please check our Eventbrite page. We have an extensive amount of photos of the studio on the website.
HOW DO I GET MY FILES/DATA?
If you are not mixing your project at WAM and will be taking the multitrack files, you must provide an empty, external, USB or Firewire 800, Apple OS X-compatible hard drive before the end of the session so the files can be transferred. We track in Pro Tools HD 12 and will deliver the session file and the audio files in that format. If you need the files prepped for mix elsewhere on a different system, that process may require booking extra time if it is an extensive project or many tracks. Make sure you budget sufficient studio time in your session to back up your files. If we have to book extra time beyond your session to deliver or backup files we will have to bill you an additional $100/hour to do that with a 1 hour minimum. Keep in mind we cannot interrupt another client's session to backup your files.
SMOKING/ALCOHOL/DRUGS PROHIBITED IN THE STUDIO:
Please respect that our facility is a smoke, alcohol and drug-free zone. Women's Audio Mission reserves the right to deny access to our premises and services to those clearly under the influence of drugs or alcohol or who don't respect our studio's policies.
WAM'S STUDIO CULTURE:
Our intent is to create a studio environment that nurtures and supports creative diversity and allows artists to speak freely and take risks. However, projects that contain content that is sexist, racist, homophobic, transphobic, ableist, or exhibit other forms of discrimination and/or violence will not be tolerated. WAM is a 501c3 nonprofit with a mission that supports the advancement of woman-identified (transgender or cisgender), non-binary or gender non-conforming individuals. Our studio is a part of our mission and the projects that are recorded here must be in line with our mission. Women's Audio Mission reserves the right to refuse to work on projects that are harmful or demeaning towards our community. Please feel free to contact us if you have any questions about your content.