WAM's Girls on the Mic (GOTM) program is a groundbreaking after-school training and mentoring program serving San Francisco Bay Area girls and gender-expansive youth ages 11-18 from under-resourced communities. We offer free creative technology and digital media production training in a variety of topics. 
Coming Soon
Fall Session: Week of September 11, 2023 – December 8, 2023
Spring Session: Week of February 5, 2024 – May 10, 2024

When: Once a week for 1-2 hours with a group of your students for 8-15 weeks
How: We travel to you with our mobile equipment or we can offer a program utilizing our own spaces.
Girls on the Mic uses music and media to connect middle and high school students every year to STEAM studies, primarily in the audio and media production sectors. You don't have to identify as a girl to participate — all identities are welcome! 
That said, we ask all students interested to show up open to learning and understanding why we hold this particular affinity space.
LEARN HOW TO:
Produce Beats
Record Podcasts
DJ and Sample
Produce Sound for Film
Pursue a Career in the Audio Industry
and so much more!
Check out this School Partner Testimonial from our friends at Gateway Public Schools!
https://www.gatewaypublicschools.org/gps-gms/newsroom/news/girls-mic-brings-world-sound-gms

---
Muchachas WAM-plicadas (GOTM) usa musica y media para conectar a los estudiantes de secundaria y preparatoria cada año con los estudios de STEAM, principalmente en el sector de produccion de audio.
No necesitas identificar como niña para participar solo necesitas comprender porque este programa existe, y como todos de nosotros podemos cambiar el futuro de media creativa.
VAMOS APRENDER A:
Producir Ritmos
Grabar Podcasts y Cuentos Digitales DJ
Producir Audio para Peliculas
Buscar Trabajo en la Industria del Audio
y Demasiado mas!
Additional Questions? / Mas Informacion?

Please contact our Education team at mcamposseligman@womensaudiomission.org.
---
A compilation of student project submissions in the Spring of 2023. All lyrics were written and recorded by Oasis Girl on the Mic students at WAM's Studio.
Shout out to our students and Youth Instructors who made this happen!
Gloxi Queen
Produced by Gloxi, Zhan'I, Bree, Dae
NORAME
produced by Yazaira, Anar, Shayla, Keily
I Woke Up
Produced by Betty, Gianna, Alondra, Karen
Thank you, Oasis For Girls!
---
A compilation of student project submissions in the Spring of 2022.
Shout out to all GOTM students and GOTM instructors who made this happen!
We also want to thank Oasis For Girls, Futurama (Galileo High), Breakthrough SF, SF Community School, and Envisioneers for their involvement and support of our GOTM program!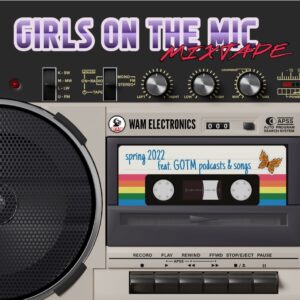 ---
A compilation of student project submissions in the Spring of 2021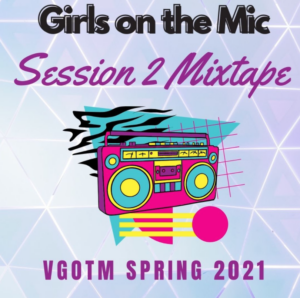 ---
Check out what one of our partner schools had to say about the GOTM program in this video created by their students who participated.
All voiceovers, music, and video editing were completed by GOTM students!
---
Girls on the Mic is made possible by the generous support of: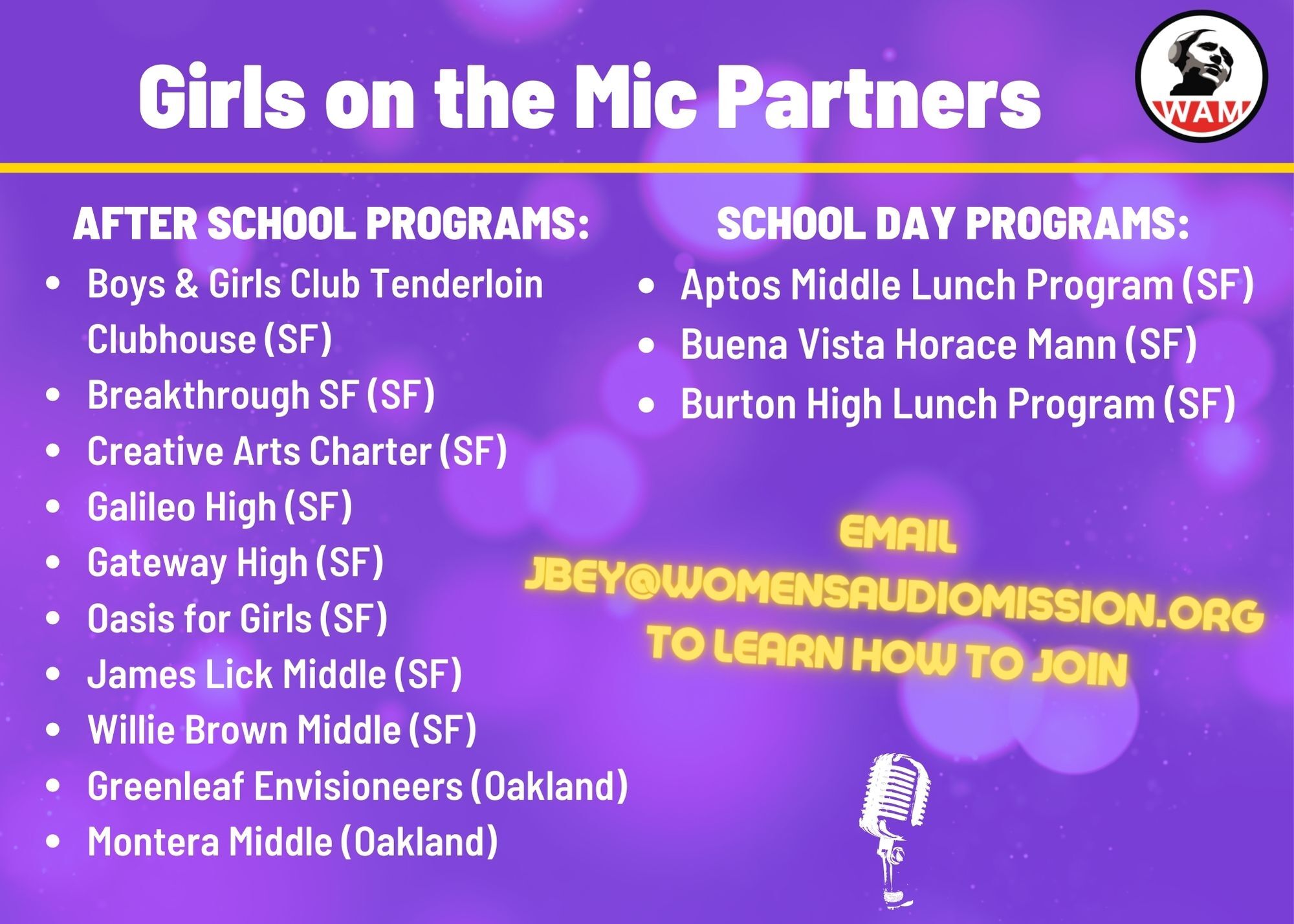 ---
2017 Student Websites and Projects:
Roots International Academy, Oakland, CA
Greenleaf Elementary School, Oakland, CA 
Oasis for Girls, San Francisco, CA
---
2016 Student Websites and Projects:
Buena Vista Horace Mann K-8, San Francisco 
Greenleaf Elementary School, Oakland  
Oasis for Girls, San Francisco, CA
---
2015 Student Websites and Projects:
Elmhurst Community Prep, Oakland
Buena Vista Horace Mann K-8, San Francisco 
Buena Vista Horace Mann K-8, San Francisco 
Greenleaf Elementary School, Oakland 
---