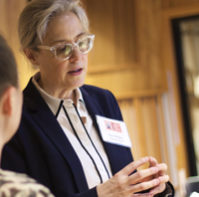 Terri Winston
Founder & Executive Director
Terri founded WAM in 2003 while she was a tenured Professor and Director of the Sound Recording Arts Program at City College of San Francisco from 2001-2011. Her love of music and the recording arts spans 30 years as a songwriter, composer, recording engineer, and producer. Winston was signed as a recording artist, engineer and producer by Polygram and BMG, and has shared the stage with such acts as P.J. Harvey, Pixies, Throwing Muses, Flaming Lips, Fugazi, Cake, and Third Eye Blind. She has collaborated with Lenny Kaye of the Patti Smith Group and Greg Hawkes of The Cars and worked as a recording artist and producer for MainMan whose roster also included David Bowie, John Mellencamp, Lou Reed, & Iggy Pop. Winston has composed and produced theme music for KRON-TV's "First Cut" series, Banana Republic and films that have shown on BRAVO's Independent Film Channel, French Television's Cine Cinemas and major festivals all over the world. She has received an ASCAP songwriting award, Boston Music Award and Bay Area Music Award, is a voting member of the Recording Academy (The GRAMMY's) and is active in the Producers and Engineers wing. Winston has a B.S. in Electrical Engineering from Purdue University.

She is currently serving on the Recording Academy's (Grammy's) National Task Force on Diversity and Inclusion and The Academy of Country Music's Diversity and Inclusion Task Force.


---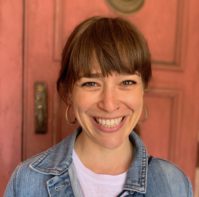 Elena Botkin-Levy
Managing Director
Working at the intersection of youth development and media-making for over a decade, Elena joined WAM as Director of Education in 2019. She previously served as Director of Media Education at YR Media (formerly Youth Radio) 2012-2019 where she led the design and implementation of multimedia training programs for Bay Area high schools students. She managed outLoud Radio, a queer youth media-making program and ran the radio station and training program for young people at ZUMIX in East Boston. Producing radio as a teenager propelled Elena into the media world where she's produced freelance pieces and supported the work of Prometheus Radio Project, the National Radio Project and Free Speech Radio News. Elena is an alumni of Temple University and is an aspiring drummer.
---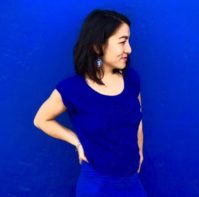 Cristina Ibarra
Director of Events and Communications
Born and raised in San Diego, Cristina left the sunshine for the San Francisco fog in 2009 and never looked back. Most recently Events Manager at Yerba Buena Gardens Festival, Cristina has hosted hundreds of events with non-profits and organizations in the Bay Area, including ArtSpan, Red Poppy Art House, LATE NITE ART, and Mission Arts Performance Project (MAPP). She is a multidisciplinary artist and musician and sits on the board of California Presenters, a statewide consortium of performing arts presenters. In her spare time (yeah right!), Cristina enjoys dancing, throwing backyard concerts, and exploring the East Bay. She has a secret love for coiling XLR cables.
---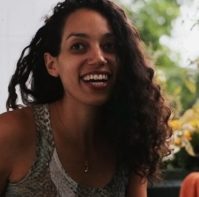 Leah King
Director of Education
Leah King is an arts educator, music producer, and Oakland native. A trained facilitator, Leah has pedagogical specializations in Culturally Responsive Education, Socio-Emotional Learning, Trauma-Informed Care, and Mindfulness-Based Stress Reduction for youth and adults. Though she is back in the Bay now, her heart occasionally longs for New York City, where she trained teachers in the NYC Department of Education, managed arts education programs at Brooklyn Academy of Music, taught self-resilience at Center for Anti-Violence Education, and volunteered with Girls Rock Camp for over a decade. Leah also lived in Berlin for many years where she was a touring musician, DJ, and go-go dancer sharing the stage with artists like Mykki Blanco, Big Freedia, and Eve Ensler, while teaching thousands of German school kids how to breakdance. A current member of female:pressure international DJ network and CTRL+SHFT Collective in Oakland, Leah is thrilled to be geeking out on audio education at WAM.
---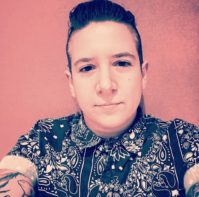 Angelo Duncan
Development & Communications Associate
Originally from rural Vermont, Angelo has found a home in the music and arts community in the Bay Area. Angelo is a recording artist, songwriter, and performer. Angelo has also worked at Women's Audio Mission for 6 years and before that as a marketing professional and copywriter for various nonprofit organizations such as Women Impacting Public Policy and Aorta Magazine. Angelo is now a Development and Communications Associate and instructor in electronic music production at WAM.
---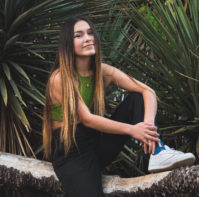 Bella Wilcox
Development, Events & Communications Coordinator
Born and raised in the Bay Area, Bella has worked and performed in the arts for over 10 years. As a freelance event promoter, Bella has worked with music acts including Lil Yachty, Ivy Sole, and Madame Gandhi. Bella is also a DJ and producer and has opened for performers such as Shangela, Berhana, Oshun, graves, and Ruby Ibarra. Bella holds B.A. degrees in Communication and Theater and Performance Studies from Stanford University.
---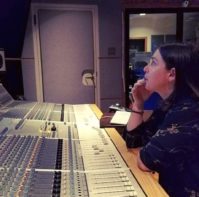 Allie Bach
Youth Program Instructor
Allie Bach grew up singing, songwriting and performing in LA as a preadolescent into adulthood. She holds a BA in Legal Studies and a BA in Feminist Studies from UC Santa Cruz. She moved to the Bay Area in 2014 and has been working with youth in various capacities ever since. She has worked as a childcare provider for Swiss Cheese Childcare Collective, interned on the policy team at Legal Services for Prisoner with Children, led music classes & taught preschool, and has volunteered as a vocal instructor/band coach with Bay Area Girls Rock Camp for several years. As a self-taught musician with experience primarily in live sound, Allie was eager to expand her skill set and learn more about studio engineering and mixing. Thus, she interned with WAM in 2018, took all the adult classes they offered, and was thrilled to be subsequently hired in early 2019. WAM provides a work environment that nourishes her growth both as an audio engineer and as an educator. Allie is most interested in the healing power of music and its uses for liberation. She loves to use music, sound, and audio technology to empower girls as they expand their life opportunities and find their voice.
---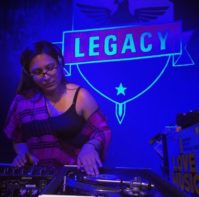 Jessica Afable
Youth Program Instructor
Jessica Afable has been playing piano and collecting vinyl records since a very young age. Now based in Oakland, Jessica is a turntable DJ and producer, showcasing her skills and serving dance floors around the Bay Area. She is a resident DJ with the group Oakland Bounce and is the founder of Westside World Wide Radio.

Jessica has also been an educator in public and private schools throughout California and Hawaii for over 10 years. Currently an instructor for Girls on the Mic, she is now thrilled to be able to merge her love of music and sound with her love of teaching.
---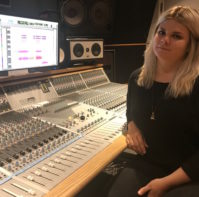 Veronica Simonetti
Lead Staff Engineer, Studio & Facilities Manager, Instructor
Veronica's role at Women's Audio Mission includes engineering in the studio, teaching classes to adults, as well as managing WAM's various facilities.

Veronica has had the honor of recording a wide variety of audio at WAM's studio. She has worked with many musicians including Meklit Hadero, St. Lawrence String Quartet, Jessie Farrell, Lia Rose, Mariachi Femenil Orgullo Mexicano, Sonita Alizadeh, and FR333. She has also recorded a plethora of audiobooks, podcasts, and voiceovers for clients including Hachette Book Group, Simon and Schuster, National Geographic, Remembering Camp Trans, Reasonable Doubt, Webby Awards Podcast, and Pitch Makeover.

Veronica interned for WAM before graduating from the Jacobs School of Music at Indiana University with a B.S. in Recording Arts. She then moved to San Francisco and has been working with WAM ever since.
veronicasimonetti.com
---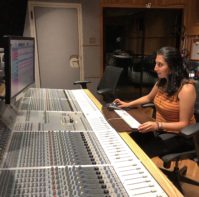 Layla Moheimani
Youth Program Instructor, Staff Engineer
A lifelong musician and Silicon Valley native, Layla's introduction to audio spanned from early experimentation with her Playskool tape recorder to running the sound board while volunteering at a local public access TV studio in high school. She graduated from UCLA's Herb Alpert School of Music in 2017 with a B.A. in Music History and a minor in Music Industry while spending most of her time hosting a math rock radio show, exploring guitar pedals for her senior thesis, and running live sound for the music school and radio station.

After graduation, Layla interned at Stones Throw Records before deciding to shift her focus back towards audio and enroll in Foothill College's Music Technology program. Layla began interning at WAM in January 2019 and is thrilled to now be teaching and engineering on the staff of such an incredibly valuable organization.
---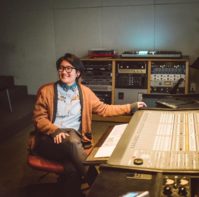 Judybelle Camangyan
Youth Program Instructor, Staff Engineer
Judybelle began their relationship with WAM in 2016 when they attended AES in New York. In the summer of 2018, Judybelle interned for WAM. After graduating from The College of Saint Rose with a B.S. in Music Industry, Judybelle moved to the Bay Area in hopes of starting their audio career. Judybelle's love for teaching grew over the summer with WAM as they assisted in classes with Kelley, Victoria, and Jayme. Studying audio in school gave Judybelle a lot of experiences--from doing live sound, running a venue, to even producing and mixing a record. Judybelle's experiences with audio cultivated a passion and perspective they wanted to advance into a profession. The combination of advocacy, education, and audio are all interests of Judybelle that made WAM a great organization to be apart of. Judybelle joined the WAM staff in March 2019 as a Girls on the Mic instructor and is happy to give back to their community through audio and education.
---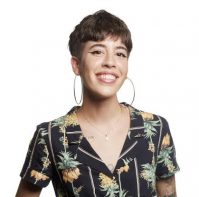 Clara Merçon
Youth Program Instructor
Clara is a multimedia artist and educator based in Oakland, CA. She was born and raised in Niterói, Brazil, and immigrated to the United States four years ago to pursue a degree at California College of the Arts, from which she graduated last spring. In her studio practice, Clara explores the themes of migration, ethnicity and belonging. Some of her interests include cooking, reading, Latin American music, and her two adorable cats.
---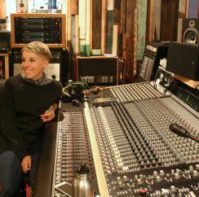 Kelley Coyne
Engineer, Consultant
Kelley is a sound engineer and educator based in the Bay Area. She's worked at Women's Audio Mission, Tiny Telephone, SFMOMA, Facebook, and multiple live venues. She's currently co-producer of the NoisePop Podcast. Recording clients include Diana Gameros, Rocky Rivera, Pamela Z, and Mariachi Feminil Orgullo Mexicano (an all-female mariachi band). She loves sharing her enthusiasm for audio with her students, and building up the community of women in the music industry.
www.kelleycoyne.com
---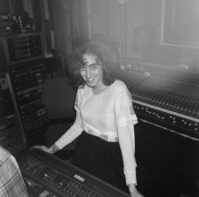 Sami Perez
Engineer
Sami lives in San Francisco, where she's lived her whole life, making and recording music. She plays bass in a band called The She's that Sami and her friends started in the 7th grade here in the city. As they got older and started recording more, Sami became frustrated with her lack of understanding of the recording world and realized how important it is for an artist to understand the art of engineering.

When Sami started to learn about engineering for the purpose of her own band, she became really invested in engineering and producing for others as well as herself. She's now had the pleasure of assisting sessions for Thao with the Get Down Stay Down (with producer Merrill Garbus of tUnE-yArDs), Shannon and the Clams (with producer Sonny Smith of Sonny and the Sunsets), Into It. Over It., Samantha Crain, and more.
---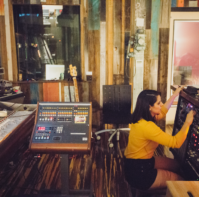 Maryam Qudus
Engineer
Maryam Qudus is a recording engineer, producer, and musician based in the San Francisco Bay Area.

Maryam began her career making music with her recording project DOE EYE. Her love and fascination with recording grew through writing and producing her own songs. She immediately felt at home spending hours in recording studios. Engineering & producing was a natural progression in her career.

Maryam has worked with Tune-Yards, Allison Crutchfield, Chaz Bundick Meets The Mattson 2, Magik*Magik Orchestra and many more.

While studio recording is her primary focus, she has also composed and recorded soundtracks for films and engineered / produced radio podcasts.

Maryam loves helping artists carry out their vision and enjoys making lots of coffee in the process.
---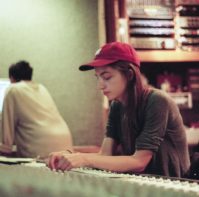 Grace Coleman
Engineer
Grace got her start as an intern at the legendary Different Fur Studios in 2013, and she quickly climbed the ranks from runner to house engineer. Over the past four years she has recorded countless hours of audio for all kinds of projects. LP's, EP's, singles, podcasts, voiceover and ADR for film and commercials, voiceover for guided meditation and workouts, as well sound design and asset management for web content.

Grace is a certified Protools Operator (Music and Post Production), and a certified Logic operator as well. Grace takes pride in her ability to connect with and understand her clients needs so as to provide them with the highest quality audio possible.