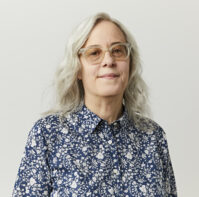 Terri Winston
Founder & Executive Director
Terri founded WAM in 2003 while she was a tenured Professor and Director of the Sound Recording Arts Program at City College of San Francisco from 2001-2011. Her love of music and the recording arts spans 30 years as a songwriter, composer, recording engineer, and producer. Winston was signed as a recording artist, engineer and producer by Polygram and BMG, and has shared the stage with such acts as P.J. Harvey, Pixies, Throwing Muses, Flaming Lips, Fugazi, Cake, and Third Eye Blind. She has collaborated with Lenny Kaye of the Patti Smith Group and Greg Hawkes of The Cars and worked as a recording artist and producer for MainMan whose roster also included David Bowie, John Mellencamp, Lou Reed, & Iggy Pop. Winston has composed and produced theme music for KRON-TV's "First Cut" series, Banana Republic and films that have shown on BRAVO's Independent Film Channel, French Television's Cine Cinemas and major festivals all over the world. She has received an ASCAP songwriting award, Boston Music Award and Bay Area Music Award, is a voting member of the Recording Academy (The GRAMMY's) and is active in the Producers and Engineers wing. Winston has a B.S. in Electrical Engineering from Purdue University.

She is currently serving on the Recording Academy's (Grammy's) National Task Force on Diversity and Inclusion and The Academy of Country Music's Diversity and Inclusion Task Force.
---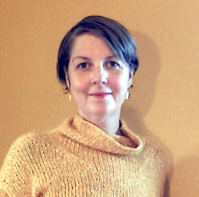 Carol Varney
Interim Director of Strategy and Development
Carol joins WAM after having served in executive director roles in several organizations, including Bay Area Video Coalition in San Francisco and Arts Foundation for Tucson and Southern Arizona. Carol's work has always been centered around the creation of community through education and the arts, and the creation of healthy communities through local and international health education and policy. Carol was a community DJ while growing up in Central Maine, and was a member of the Hampshire College choir as well as the San Francisco Community Choir. Carol played trombone for many years, as well as cello.

Carol serves on the board of trustees for Hampshire College, from which she graduated with with a BA in Cultural and Feminist Studies. Carol also serves on the Advisory Board of SPACE Gallery in Portland, Maine.
---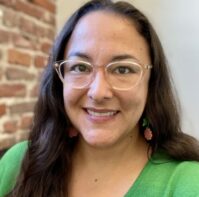 Christina Ayala
Director of Education
Christina is a musician, dancer, and educator who has been working in the Bay Area arts education scene since 2007. Originally from the Central Valley, she earned a BA at NYU and graduated with her Masters in Education from Mills College. She previously managed education programs at SFJAZZ and Jazz at Lincoln Center and most recently advocated for and founded a school-wide performing arts program at a TK–8 school in the Fruitvale, Oakland. Christina is passionate about equity in access to arts education, and creativity as a catalyst for liberation. She also serves on the board of Luna Dance Institute based in Berkeley, CA.
---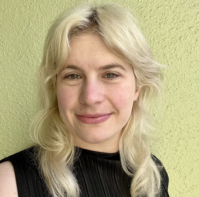 Arielle Flinkman
Studio Manager & Engineer
Arielle is an audio engineer from Los Angeles. After graduating from the University of San Francisco with a Bachelor's in Media Studies, she began her career in film exhibition and became Operations Manager of the Roxie Theater in San Francisco, where she was also a film projectionist. Eventually, she followed her interest in technical work and her passion for music and completed the audio engineering program at City College of San Francisco. During her training, she interned at WAM, where she fell in love with the organization's mission and the community surrounding it. Since 2019, she has worked as a live sound engineer and studio engineer around the Bay Area. In her spare time, Arielle is also a vinyl DJ and plays shows with her band. Arielle is excited to bring her operations background and audio skills to WAM and to help make audio more accessible to the community she loves.
---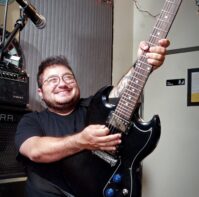 Mateo Campos-Seligman
Youth Program Manager
Mateo (he/him) is an East Bay born-and-raised educator, audio engineer, musician, and lifelong learner. Originally cutting his teeth as a teenager and young(er) adult in the 924 Gilman scene as a both a sound engineer and touring musician, he earned his BA in Broadcast and Electronic Communication Arts from San Francisco State University, and more recently completed a Master's program in Library and Information Science through San Jose State University. Previous to joining WAM, Mateo worked as an after-school and library program director at an all-girl's middle school in Oakland. He has also worked as a museum a/v engineer, a repertory theatre bartender, a barista, and more. Mateo cares a lot about access, equity, and justice in education, the creative media technology world, and the DIY music scene.
---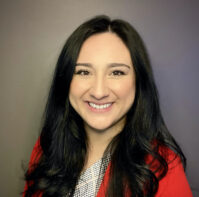 Jamie Hernandez
Marketing Manager
Jamie is a marketing expert with 15+ years of music industry experience specializing in marketing, content creation, music and audio production, songwriting, and voice-overs. She is best known for her time at LOUD Audio, where she quickly became the face and voice of the Mackie brand. Her early years were served as a Field Representative, traveling nationally and internationally to train multiple dealers and call centers on products.

She quickly became the Product Marketing Manager and host of Mackie's first-ever podcast, the "Ins & Outs with Mackie." During her time as host, she got to work and interview notable music industry experts such as Sanjay C, Mike Herrera (MXPX), Matthew K Heafy (Trivium), Herman Li (Dragonforce), and Terri Winston, Founder and Executive Director of WAM. In 2021, she aided in multiple campaigns that rapidly increased social engagement and the development of a fresh new website for the Mackie brand. Before her departure, she was nominated for Billboard's Executive Woman in Music Award.

Jamie is also a multi-instrumentalist who enjoys songwriting, live looping on pedals, and recording/performing with her Electro-pop band, Manifique. She is thrilled to work with a team that shares her same passion for amplifying the voices of underserved markets.
---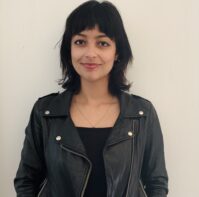 Christina Cerza
Operations Manager
Christina is a music industry professional, event producer and promoter, and radio host. A lifelong lover of live music, she has produced live shows in LA and the Bay Area and has worked in music venues in booking, operations, and marketing. Christina now books shows in the SF and Oakland, DJs locally, and hosts a femme and queer focused radio show on Oakland's Lower Grand Radio. Christina has previously held roles at Pandora Media, Live Nation, and House of Blues Entertainment, and is excited to join the nonprofit space and serve WAM's community-based mission.
---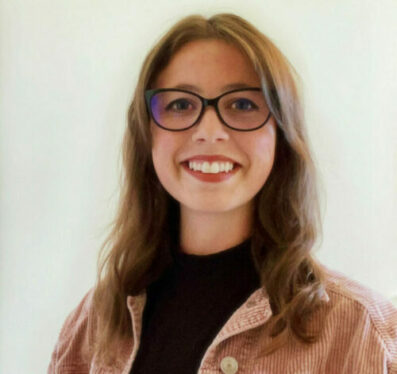 Molly Woodbury
Grants Manager/Writer
Molly is a grant writer and nonprofit professional with a deep love for San Francisco and relentless passion for advancing gender and racial justice. She received her masters and undergraduate degree from San Francisco State University in US History, focusing on racial and cultural history and women/gender studies. She has worked at nonprofits ranging from museums to legal aid providers for low-income communities and volunteers for local queer organizations. In 2021, she won an award for a winning grant proposal in the government sector from Grantstation. Her profound love of music means that much of her spare time has been spent making countless dance playlists and attending Bay Area concerts. She is excited and determined to change the gender background of sound with the rest of the incredible WAM team.
---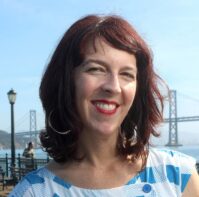 Alicia Crawford
Internship Program Manager
Alicia Crawford, born in California, has spent time as a writing college professor, in nonprofit leadership, and volunteering in wild animal sanctuaries. She is a producer, editor, and sound engineer for a variety of podcasts using storytelling to affect social change, with a special focus on the intergenerational and the LGBTQAI+ communities. She also hosts her own podcast, Thick Skin, about women and gender expansive people working in the skilled trades. In her quiet time, she likes to weld, walk for miles, write poetry, and bake pies.
---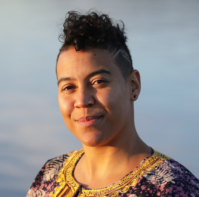 Naike Swai
Education Coordinator & Instructor
Naike is a multi-disciplinary artist, DJ, community builder and natural healer from Tanzania (East Africa). With a background in creating hip hop and street theater rehabilitation programs for youth in their hometown Moshi, Naike strongly believes in the healing power of sound and collective storytelling. They hold an MA of Science in Oriental and Herbal Medicine, and are classically trained in the Bansuri flute and other sound healing modalities. Fusing these elements, Naike is passionate about creating community events that center joy, healing and liberation, particularly for QTBIPOC. You may see them up and down the West coast, hyping crowds DJing with Portland based Trans DJ Collective UwU, or hosting restful sound-baths under forest canopies. Naike has worked in creative direction with the Stanford Summer Theater, The East Side Arts Alliance, done documentary work for Acupuncturists without Borders and been an educator with Portland's Young Gifted & Black, Wild Diversity and Weaving Earth.
---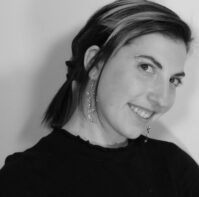 Nancy Ferranti
Youth Program Instructor
Nancy is a Bay Area comedian, researcher, radio/ podcast producer, beatmaker, D.J., and educator. She has always been inspired by art, science, and above all else – a ridiculous love for music. Nancy studied Cognitive Science at McGill University, where she graduated with a unique interdisciplinary B.A. & Sc. degree. Her work since has been motivated by a passion for knowledge translation, storytelling, and audio. Nancy's experimental radio pieces have been featured across international airwaves and her podcast work has garnered notable awards, including a Mixcloud Listeners' Choice Award for Best Science/ Technology Podcast. She deeply believes that audio has the power to share knowledge, facilitate personal expression, and provide a platform to voices typically ignored by mainstream media. Most importantly though, Nancy appreciates audio for the joy and fun it brings to life! Whether she's making beats in bed or recording the noises of BART, Nancy has always been able to seek solace in sound. She could not be more excited to share the power of audio and music (specifically sick beats!) as a Girls on the Mic instructor at WAM!
---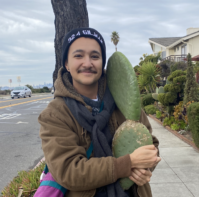 Stevie Campos-Seligman
Youth Program Instructor
Stevie (they/them) is a live audio engineer, songwriter, musician, and sharer of knowledge from the East Bay Area. Stevie has been playing in bands since they were ten years old, and got their start with audio work through their involvement in the East Bay DIY music scene. They got their foundational training as a live sound engineer at 924 Gilman, where they are currently the head of sound. Stevie graduated from UC Santa Cruz with a BA in Sociology and Feminist Studies, and they bring their desire to make sense of systems of oppression everywhere they go. You can often find Stevie running sound at 924 Gilman or El Rio, or playing shows with their bands Crush Material and STARTLE.
---
Laura Rivero
Youth Program Instructor
Laura (she/her/ella) is a post-production audio editor and engineer born and raised in San Francisco. As a youngster she performed in choirs and developed a deep love of music and all things related to the performing arts. Being a natural introvert, she redirected her passion for music behind the scenes as a post-production sound editor and sound designer. She earned her BFA in Music Production & Sound Design from the Academy of Art University in 2019. Through her internship at WAM she expanded her skillset to include live sound engineering. Laura is passionate about BIPOC representation in media, particularly in the Latinx community. She is motivated by her own upbringing in an immigrant community to make music, art, and technology accessible to all students regardless of socioeconomic status. In her spare time you'll often find Laura wandering aimlessly through a bookstore in search of Latinx authors. She's so excited to be joining the Girls on the Mic team!
---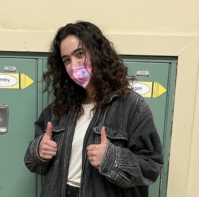 Ari Boostani
Youth Program Instructor
Ari (they/them) is a dancer, DJ, audio engineer, and visual artist from Santa Cruz, Ca. Ari graduated from UC Davis with a BS in Environmental Chemistry & Dance in 2022. Alongside Ari's artistic career, Ari is an educator and loves working with kids; especially sound related. Ari began working in Sacramento, Ca as a peer mentor for a nonprofit organization called Future Development Youth Center (FDYC), focusing on giving opportunities to lower income youth - teaching them how to DJ, make beats, and produce music videos. Working with kids has always provided Ari joy because they wish to give kids opportunities to tell their story, build confidence, and find creative outlets. They started being an audio engineer at the school radio station KDVS, where they recorded artists in an analog studio as well as put out two mixtapes on the KDVS label featuring all local artists. Then, they continued their passion in audio engineering and working in live sound when they joined WAM through their internship program in Fall 2022. The internship program gave Ari the confidence to continue to intertwine their artistic passions and their career path. Ari learned DJing from their supervisor, Frank Woods, the founder of FDYC in 2019 and fell in love with the art of mixing. Ari found their passion for DJing old school hip hop to techno to inspire people to dance and have fun. Five years later, Ari spends their weekends DJing around the Bay setting the vibes through a blend of techno, Middle Eastern, Latin, and Afro beats, hip hop, and more. They are also passionate about making safe spaces for QTBIPOC folks. Alongside their passion for music, they continue to nurture their passion for performance in all directions. They work as a stage manager with SfArtsEd, work at the OASIS club as a lighting technician/designer, and collaborate with other artists to perform independent works.
---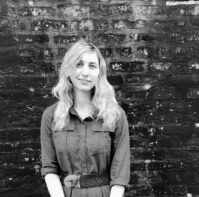 Danielle Goldsmith
Freelance Recording Engineer
Hi, my name is Danielle Goldsmith. I am a recording engineer/mixer/producer based out of the Bay Area and Los Angeles, CA.
I began engineering at Women's Audio Mission in 2016. Shortly after my training, I became a house engineer at Tiny Telephone in Oakland, CA, and in early 2021 I opened a home studio in Los Angeles called Wiggle World. I feel confident working in both the analog and digital domains. I love working in a wide range of styles and genres. I enjoy taking a highly personalized approach to recording. I like to work closely with artists to ensure we produce the best possible sounds in a fun and creative environment!