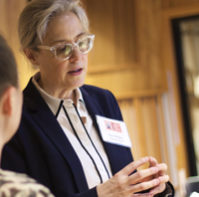 Terri Winston
Founder & Executive Director
Terri founded WAM in 2003 while she was a tenured Professor and Director of the Sound Recording Arts Program at City College of San Francisco from 2001-2011. Her love of music and the recording arts spans 30 years as a songwriter, composer, recording engineer, and producer. Winston was signed as a recording artist, engineer and producer by Polygram and BMG, and has shared the stage with such acts as P.J. Harvey, Pixies, Throwing Muses, Flaming Lips, Fugazi, Cake, and Third Eye Blind. She has collaborated with Lenny Kaye of the Patti Smith Group and Greg Hawkes of The Cars and worked as a recording artist and producer for MainMan whose roster also included David Bowie, John Mellencamp, Lou Reed, & Iggy Pop. Winston has composed and produced theme music for KRON-TV's "First Cut" series, Banana Republic and films that have shown on BRAVO's Independent Film Channel, French Television's Cine Cinemas and major festivals all over the world. She has received an ASCAP songwriting award, Boston Music Award and Bay Area Music Award, is a voting member of the Recording Academy (The GRAMMY's) and is active in the Producers and Engineers wing. Winston has a B.S. in Electrical Engineering from Purdue University.

She is currently serving on the Recording Academy's (Grammy's) National Task Force on Diversity and Inclusion and The Academy of Country Music's Diversity and Inclusion Task Force.


---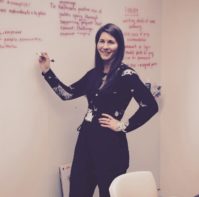 Katie Fahey
Associate Director
As a San Francisco Bay Area based professional with over a decade of experience, Katie joined WAM as Associate Director in 2017. For WAM, she works directly on strategy and manages development and communications, corporate partnerships, special initiatives, and major events. She is proud to channel her passion for media justice in support of WAM's mission to advance gender equity through creative technology.

Prior to WAM, Katie spent four years as Arts Program Officer with the Kenneth Rainin Foundation, where she managed grantmaking programs for Bay Area arts organizations and artists. Her background includes positions with the Art Institute of Chicago, the City of Chicago's Department of Cultural Affairs as well as the Embassy of Canada in Washington, D.C. She also served as Managing Director of the Red Poppy Art House in San Francisco and has worked as an editor, curator and arts consultant. Katie has been a guest speaker and panelist for such organizations as the San Francisco Arts Commission, Berkeley Civic Arts Commission, Silicon Valley Creates, Foundation Center, Theatre Bay Area, Burning Man, Emerging Arts Professionals/SF Bay Area and others. She holds an MA in Arts Administration and Policy from the School of the Art Institute of Chicago and a BA in Political Science and English from Acadia University. Katie is also a graduate of Seth Godin's altMBA Program, an intensive management workshop, and is currently completing a Marketing Certificate at UC Berkeley.

---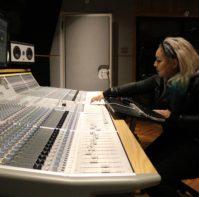 Victoria Fajardo
Girls on the Mic Instructor
Victoria grew up in Concord, CA. Victoria's love for teaching and working with children started as a youth. Victoria and her brother were fourteen years apart, and when he was a few months old, Victoria started working at a church nursery because she was able to take him with her and work at the same time. She cared for babies from new born, to two years old. Starting her junior year of high school she was selected for the Service Learning Program, a program where one can be a student teacher and receive school credits for your work. That's where Victoria first learned she loved to teach. Victoria attended SAE Expression College in San Francisco and graduated with a degree in Audio Engineering, Technology, and Music Production. After College, she worked for Hip Hop For Change, an Oakland-based non-profit, teaching youth in schools the history and culture of hip-hop. Victoria started interning at Women's Audio Mission in 2016 and was hired in 2017 as a Girls on the Mic Instructor, where she combines her passions for both audio and education.
---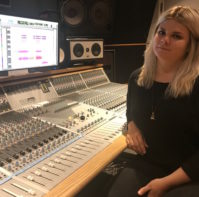 Veronica Simonetti
Staff Engineer/Facility Manager/Instructor
Veronica's role at Women's Audio Mission includes engineering in the studio, teaching classes to adults, as well as managing WAM's various facilities.

Veronica has had the honor of recording a wide variety of audio at WAM's studio. She has worked with many musicians including Meklit Hadero, St. Lawrence String Quartet, Jessie Farrell, Lia Rose, Mariachi Femenil Orgullo Mexicano, Sonita Alizadeh, and FR333. She has also recorded a plethora of audiobooks, podcasts, and voiceovers for clients including Hachette Book Group, Simon and Schuster, National Geographic, Remembering Camp Trans, Reasonable Doubt, Webby Awards Podcast, and Pitch Makeover.

Veronica interned for WAM before graduating from the Jacobs School of Music at Indiana University with a B.S. in Recording Arts. She then moved to San Francisco and has been working with WAM ever since.
veronicasimonetti.com
---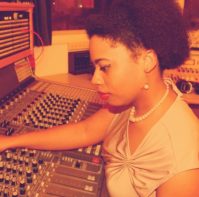 Jayme Brown
Intern Manager, Girls on the Mic Instructor, Program Coordinator
Jayme discovered her love for music at an early age, joining choruses and musicals both in and outside of school. In high school, she took a week long course in midi, and was inspired to further her education in all things production. Her mother is an educator, and Jayme would tutor, volunteer, give private voice lessons, and also worked as a teacher's assistant. Following in the footsteps of her high school music teacher, and hoping to become the female Quincy Jones, she attended Berklee College of Music and graduated with a degree in Contemporary Writing and Production. She continues to sing, and is a member of local Bay Area group Antique Naked Soul, and has performed opening for renowned artists such as Nneka, Les Nubians, Fantastic Negrito, Mos Def, Talib Kweli, The Roots and more. She discovered WAM as a member of A.N.S. when they participated in one of WAM's Local Sirens concerts, where she connected with Terri, WAM's Director. Knowing that day that she wanted to be a part of the WAM family, she stayed connected with Terri and shared her interest in joining the organization. She joined the roster of Girls on the Mic instructors in July of 2018, combining her love of teaching and music production.


---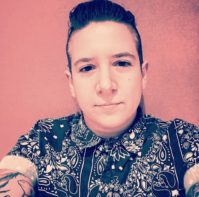 Angelo Duncan
Development & Communications Associate
Originally from rural Vermont, Angelo has found a home in the music and arts community in the Bay Area. Angelo is a recording artist, songwriter, and performer. Angelo has also worked at Women's Audio Mission for 6 years and before that as a marketing professional and copywriter for various nonprofit organizations such as Women Impacting Public Policy and Aorta Magazine. Angelo is now a Development and Communications Associate and instructor in electronic music production at WAM.
---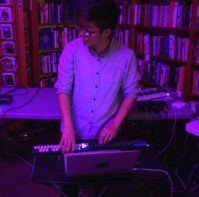 Adria Otte
Program Coordinator, Instructor, Staff Engineer
Adria Otte has been an active musician in the SF Bay Area since her arrival in 2004 after completing a BA in Music and Asian Studies from Bard College. She creates music inspired from a diverse musical background that includes classical violin studies, rock bands, traditional Korean drumming, free improvisation, sound design for dance/theater and experimental electronic music. In 2016 she completed an MFA in Electronic Music and Recording Media from Mills College and soon after became an intern at WAM to further develop her audio engineering skills. Being a part of the WAM community led to pursuing interests in classical recording techniques, and she has been working closely with classical recording engineer and producer Lolly Lewis since the end of 2016. In addition to Lolly, she credits the strong women teachers and mentors in her life that have inspired her to pursue music and audio technology, including Brenda Hutchinson, Maggi Payne, Pauline Oliveros, Joan Tower and the members of the Colorado Quartet. Adria is passionate about all things music and sound-related, and strongly believes that learning is a never-ending journey. She is thrilled to have been hired by WAM in 2018, a place where she can continue to learn as well as share her passions with an amazing community of engineers and future engineers!
---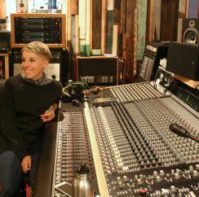 Kelley Coyne
Engineer, Consultant
Kelley is a sound engineer and educator based in the Bay Area. She's worked at Women's Audio Mission, Tiny Telephone, SFMOMA, Facebook, and multiple live venues. She's currently co-producer of the NoisePop Podcast. Recording clients include Diana Gameros, Rocky Rivera, Pamela Z, and Mariachi Feminil Orgullo Mexicano (an all-female mariachi band). She loves sharing her enthusiasm for audio with her students, and building up the community of women in the music industry.
www.kelleycoyne.com
---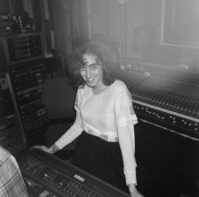 Sami Perez
Engineer
Sami lives in San Francisco, where she's lived her whole life, making and recording music. She plays bass in a band called The She's that Sami and her friends started in the 7th grade here in the city. As they got older and started recording more, Sami became frustrated with her lack of understanding of the recording world and realized how important it is for an artist to understand the art of engineering.

When Sami started to learn about engineering for the purpose of her own band, she became really invested in engineering and producing for others as well as herself. She's now had the pleasure of assisting sessions for Thao with the Get Down Stay Down (with producer Merrill Garbus of tUnE-yArDs), Shannon and the Clams (with producer Sonny Smith of Sonny and the Sunsets), Into It. Over It., Samantha Crain, and more.