Local Sirens: Live Music Performance Series is a free, all-ages quarterly performance series that features exceptional Bay Area women and gender-expansive musicians and performers. Local Sirens supports artists who are creating new and innovative work that is representative of the diverse communities of the Bay Area. To date, Local Sirens has presented the work of 75+ local women and gender-expansive artists and reached over 7,500 attendees at venues including The Rickshaw Stop, The New Parish, and more.
The goal of WAM's Local Sirens series is to address the chronic gender and racial inequity in the music industry by promoting and presenting female and gender-expansive BIPOC artists and supporting them with paid commissions to create new work and artist recording residencies in WAM's professional studios. Only 2-3% of music producers and 12% of songwriters are women/gender-expansive, and far fewer are BIPOC.
---
Artist Recording Residencies: provide local BIPOC women and gender-expansive artists with free recording services and mentoring. Recording Residencies include an artist stipend and 1-2 weeks of recording studio time in WAM's studios in San Francisco with a WAM engineer. The residency culminates in a live performance at one of WAM's Local Sirens Concerts.
Hear from Breathless, one of our artists at WAM, to find out why this residency is important to her and, and for all women and gender-expansive people.
"Women have been in entertainment for the longest time, and so the fact there is a space where you can learn, be amplified, and really show out — that's really pretty cool." – Breathless
---
Local Sirens: Music Performance Series July 21st, 2022, featuring DJ Bitesize,  STONI, and Skip the Needle, live at The Parks at 5M on Minna & Mary St. in San Francisco, CA.

---
Past Local Sirens performers include Skip The Needle, Stoni, DJ Bitesize, SIRI SEIKO, La Femme Papi, Samaria, Linda Sol, Hodari Blue, Chhoti Maa, The Onyx, Dioganhdih, B-Side Brujas, Rayana Jay, Rocky Rivera, Kah Liberation, Meklit, Meernaa, Tanukichan, The She's, Lauren O'Connell, Diana Gameros, Fely Tchaco, Pamela Z, Camille Safiya, Xiomara, Chhoti Maa, SOAR, Versoul, Ruby Mountain, Meklit, Gina Madrid, Naima Shalhoub, Spellling, Pllush, Azuah, Lalin St. Juste, Rose Droll, Humid, Kohinoorgasm, Ötzi, HiScores, Ver Soul, Carly Bond, Madeline Kenney, Mariachi Feminil Orgullo Mexicano, Antique Naked Soul, Built For The Sea, Silver Shadows, Try the Pie, Mane, Sirena Victima, and DJ Mashi Mashi.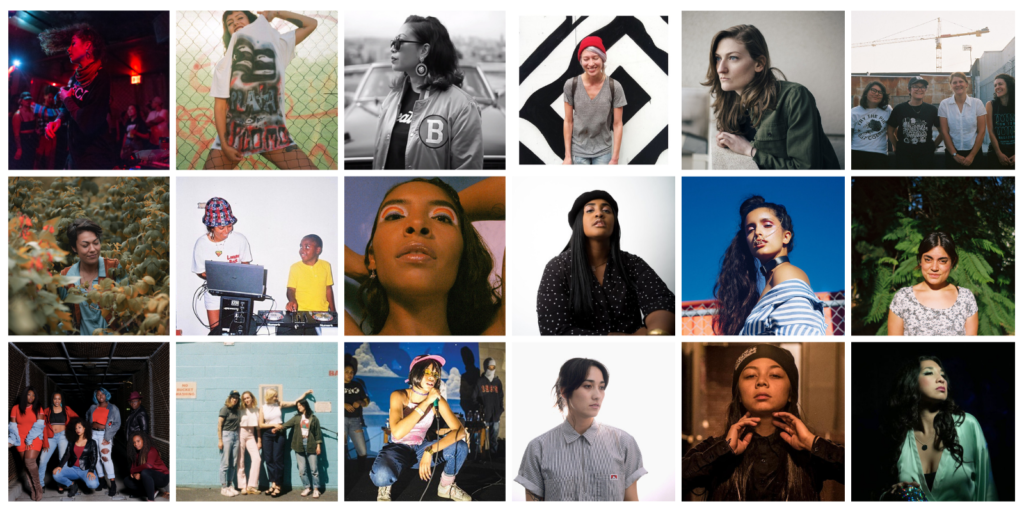 ---
Check out the playback of our 2021 Local Sirens: Women in Music Concert Series live at Bandcamp!
This lineup included Lalin St. Juste (The Seshen), who headlined the event. Lalin is the lead singer of The Seshen, who performed as a solo act, debuting her independent and unique sound featured in her latest upcoming release, behind my eyes. Native emcee, performer, and author Rocky Rivera followed Kah Liberation with songs from her latest album Rocky's Revenge. The noir, female ensemble Kah Liberation, opened the show offering doses of sound bathing, soul healing & liberation along the way.
---
Press Releases
---
Local Sirens is made possible through support from California Arts Council, San Francisco Arts Commission, Fleishhacker Foundation, Zellerbach Family Foundation, Phyllis C. Wattis Foundation, and Grants for the Arts.
The Artist Residency program provides support for San Francisco Bay Area-based women/gender-expansive artists that identify as Black, Indigenous, or Artists of Color.
---