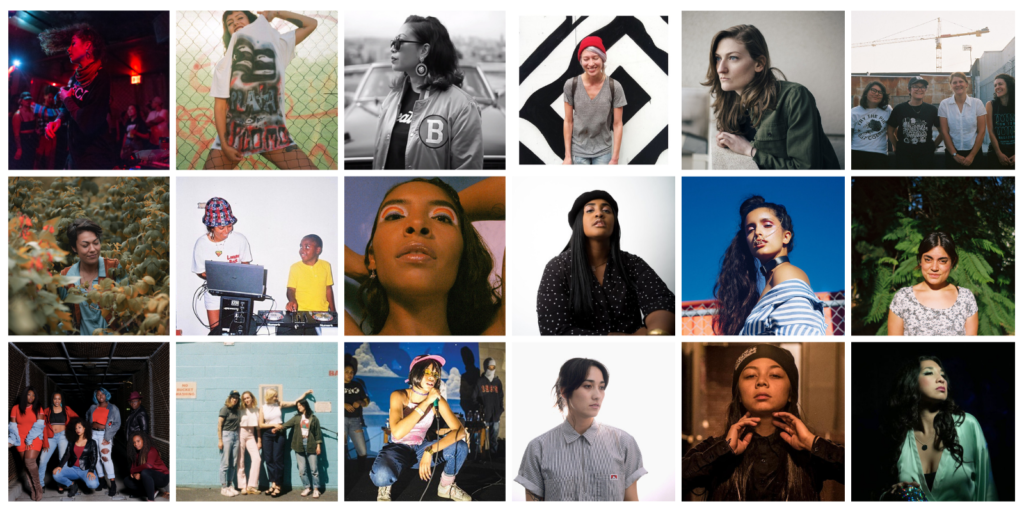 Local Sirens: Women in Music Performance Series is a free, all-ages quarterly performance series that features exceptional Bay Area women and gender non-conforming musicians and performers. Local Sirens supports artists who are creating new and innovative work that is representative of the diverse communities of the Bay Area. To date, Local Sirens has presented the work of 75+ local women and gender non-conforming artists and reached over 7,500 attendees at venues including The Rickshaw Stop, PianoFight, The New Parish, and more.
Past Local Sirens performers include SIRI SEIKO, La Femme Papi, Samaria, Linda Sol, dorien blue, Chhoti Maa, The Onyx, Dioganhdih, B-Side Brujas, Rayana Jay, Rocky Rivera, Meklit, Meernaa, Tanukichan, The She's, Lauren O'Connell, Diana Gameros, Fely Tchaco, Pamela Z, Camille Safiya, Xiomara, Chhoti Maa, SOAR, Versoul, Ruby Mountain, Meklit, Gina Madrid, Naima Shalhoub, Spellling, Pllush, Azuah, Lalin St. Juste, Rose Droll, Humid, Kohinoorgasm, Ötzi, HiScores, Ver Soul, Carly Bond, Madeline Kenney, Mariachi Feminil Orgullo Mexicano, Antique Naked Soul, Built For The Sea, Silver Shadows, Try the Pie, Mane, Sirena Victima, and DJ Mashi Mashi
Local Sirens is made possible through support from California Arts Council, San Francisco Arts Commission, Zellerbach Family Foundation, Phyllis C. Wattis Foundation, and Grants for the Arts.
Apply to be considered for Local Sirens here!
---
---
WAMpaign 2020: Help WAM Reach 3,000 Women & Girls by End of 2020
Donate HERE! Less than 5% of the messages in our lives are created by women. WAM serves over 2,000 women and girls a year from the most vulnerable communities in California with low or no cost creative technology and STEM training: 96% low income 91% women and girls of color 30-40% high school dropout … Read more
---
---