Partner With Us
Women's Audio Mission (WAM) is proud to partner with mission-aligned corporations in unique ways, including special events, behind-the-scenes tours, shadowing opportunities for our interns and members, networking and mentorship opportunities, promotional partnerships for audio gear, and more. Our partners include industry leaders like Dolby, Disney, Spotify, Pandora, Microsoft, Google, Facebook, Meyer Sound, YouTube, Outside Lands, Hamilton: An American Musical, and many others.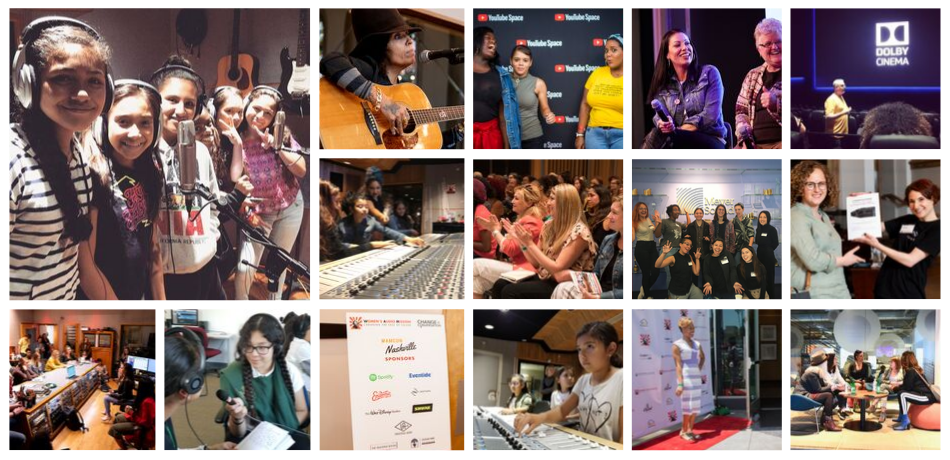 1. Maximize impact with a donation or grant.
Corporations offer WAM funding through their CSR, Social Impact or Diversity & Inclusion teams. Our award-winning programs train women and girls in STEM and creative technology, creating a diverse pipeline of skilled workers from which they hire. All donations to WAM are tax deductible and many employers offer matching funds, allowing for double the impact! Did you know an estimated $4-7 billion in matching funds goes unclaimed every year?
2. Sponsor an event or conference. 
Enjoy opportunities to network with other high-profile sponsors and industry professionals, elevate company expertise through workshop and panel participation, and position your brand as a leader, advancing gender equity in the industry. Benefits also include exposure to our 30,000+ social media followers. WAM's recording arts conferences for women take place in U.S. music cities and will travel to New York and Los Angeles in 2020. Learn more about WAMCon Sponsorship here.
3. Access WAM graduate pipeline. 
Our corporate partners show visible and tangible support for the advancement of underrepresented groups and diversify their workplaces when they hire WAM graduates. WAM is proud to have placed over 700 women in careers at companies like Pixar, Facebook, Google, Apple, Sony, Dolby, Pandora, NPR, and many more.
4. Donate gear, software or other in-kind items.
WAM values donations like catering, auction items, electronics, and audio gear. Our weekly #ThankYouThursday shout-outs to in-kind donors on social media reach 30,000+ followers. WAM's studio has been equipped with some of the finest gear in the business thanks to our manufacturer sponsors.
5. Host WAM students, interns and/or members at your company.
WAM's corporate allies have hosted special company-based experiences which offer unparalleled professional development opportunities for WAM students, interns, and/or members. Examples of past engagements have included private tours of manufacturing facilities for WAM interns (e.g. Meyer Sound), high-level shadowing opportunities (e.g. live sound for Outside Lands and Hamilton: An American Musical), behind-the-scenes access to labs and demos by industry leaders (e.g. Dolby Laboratories), speed networking events and presentations (e.g. Facebook's Sound Design team), and panel discussions with female executives (e.g. Arup).
6. Book a studio session. 
Is your company launching a podcast? Use our studio for your next project. WAM currently records audiobooks and podcasts for clients like Salesforce, Twitter, and National Geographic.
7. And more! 
WAM loves to explore new partnerships. Some of WAM's unique corporate engagements have included Instagram takeovers, team visits to our recording studio, employee volunteer days, and more. We can't wait to hear your ideas! Contact us at info@womensaudiomission.org.