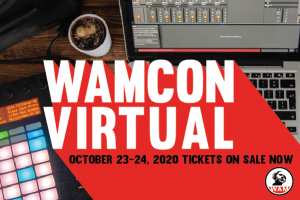 Thanks for joining us at WAMCon Virtual, an immersive recording arts conference for women and gender non-conforming (GNC) folks in audio, featuring top leaders in the industry, live demos, GRAMMY award-winning producers, engineers, and more – online!
———–
SCHEDULE:
Friday, October 23, 5-7pm PT / 8-10pm ET
Kick-off Keynote Panel: Journeys in Audio with Shani Gandhi (Kelsea Ballerini, Alison Krauss, Old Crow Medicine Show), Heba Kadry (Bjork, Princess Nokia, Mars Volta) and Natalia Ramírez (Jennifer Lopez, Camila Cabello, Marc Anthony)
Three top engineers share their unique stories and expertise. Join us as they break down the recording process from start to finish, from tracking to mastering and how all the processes interact and overlap, providing expert insight on what they look for and the special qualities that got them to where they are in their careers.
Networking & Performance by DJ Red Corvette: 7-8pm PT / 10-11pm ET 
———
Saturday, October 24, 11am-4pm PT / 2pm-7pm ET
Workshops, Demos & Breakouts
The Remix Process – Deconstructing and Reconstructing a Song with Suzi Analogue (DJ Earl, TOKiMONSTA, King Britt)
The Mastering Process and Tour of a Mastering Studio with Jett Galindo at The Bakery (Pink Floyd, La La Land OST, Haley Reinhart)
Songwriting and Production for TV and Film with AG (Christina Perri, Aloe Blacc, The Handmaid's Tale)
Deconstructing a Mix with Gloria Kaba (Q-tip, Kanye West, Frank Ocean)
Beatmaking with Tygapaw
Plus Breakout Sessions with iZotope, Dolby, sE Electronics, Shure, and more!
———–
PRICING:
General: $25
WAM Member: $15
Student: $15
Sliding Scale tickets available for women and GNC individuals who are otherwise unable to attend.
Ticket pricing covers both days. Sorry, we are unable to offer 1-day tickets at this time.
———–
MEMBER DISCOUNT:
Become a WAM Member for discounted tickets, plus a full list of annual member benefits, and belonging in a global network of women and GNC professionals in sound!
———–
PLEASE NOTE:
Women's Audio Mission focuses on increasing the gender balance in audio production and technology sectors since less than 5% of the population employed in these sectors are women. There are limited spots available in our events and they often sell out, so we ask that if you are not a woman (transgender or cisgender), non-binary, or gender non-conforming, that you reconsider registering. We will not turn anyone away, but please be mindful that if you take up a seat, that is one less woman or non binary-identified individual that we can serve. We thank you for your understanding in advance and for joining us in our mission to advance women and girls in music production and the recording arts.