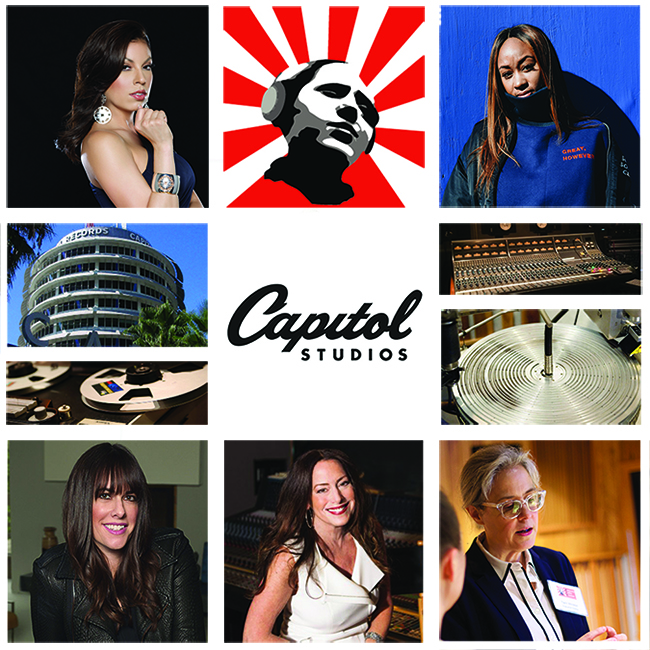 Join Women's Audio Mission on June 9, 2018 for an immersive recording arts conference at the legendary Capitol Studios in Los Angeles, featuring some of the country's top women engineers and music executives. The conference will include presentations, discussions and interactive workshops on topics ranging from mixing, beat making, and mic placement to the music business.
Confirmed speakers include COO of Capitol Music Group Michelle Jubelirer, recording and mixing engineer Marcella "Ms. Lago" Araica, VP/Studio Manager of Capitol Studios Paula Salvatore, Founder & Executive Director of WAM Terri Winston, and music producer, songwriter and entrepreneur TRAKGIRL.
This event is open to women (transgender or cisgender; non-binary and gender non-conforming individuals are welcome).
Price: $10 for students; $20 for professionals
12:30pm – 1:00pm: Registration
1:00pm – 1:05pm: Welcome by Terri Winston (Women's Audio Mission)
1:05pm – 1:25pm: Introduction by Paula Salvatore (Capitol Studios)
1:25pm – 1:55pm: Conversation with Michelle Jubelirer (Capitol Music Group) and Jennifer Baltimore (Universal Music Group) with Katie Fahey (Women's Audio Mission)
1:55pm – 2:35pm: Conversation with Marcella "Ms. Lago" Araica, Michel'Le Baptiste, Blush, Amanda Davis, Jane Handcock, and TRAKGIRL with Terri Winston (Women's Audio Mission)
2:50pm – 5:20pm: Mixing, Beat Making, Studio Tracking, and Songwriting Workshops
5:30pm – 7:00pm: Reception
FEATURED ENGINEERS & MUSIC PROFESSIONALS
MARCELLA "MS. LAGO" ARAICA
Pioneering powerhouse, Marcella "Ms. Lago" Araica, has burgeoned into a towering beacon of talent as one of the music industry's hottest, most prolific sound engineers. Credited for mixing over 100 chart-topping tunes, Marcella has worked with world-renowned musical icons such as Beyoncé, Britney Spears, Madonna, Nelly Furtado, Usher, Joe Jonas and Missy Elliot, along with super producers Timbaland, Danja, and Polow Da Don. In a few years, she has already accomplished what most strive to achieve in a lifetime. Marcella works with thriving independent label, N.A.R.S. (New Age Rock Stars), and the newly built recording studio DREAM ASYLUM STUDIOS in Miami.
MICHELLE JUBELIRER
Michelle Jubelirer has been COO of Capitol Music Group since 2015. Her numerous responsibilities include overseeing business and legal affairs, A&R administration, and release planning for Capitol, and for CMG's label imprints: Astralwerks, Blue Note, Caroline, and Harvest. Michelle began her career as an attorney at New York's Simpson Thacher & Bartlett in 1999 before joining Sony Music in 2003. She moved to Los Angeles in 2005 where she served as a Partner at King, Holmes, Paterno & Berliner for nearly five years. She joined Capitol Music Group as Executive Vice President in 2013.
PAULA SALVATORE
Paula has been an anchor of excellence in the L.A. recording world for many years, and is held in high esteem amongst her colleagues. As Vice President of Capitol Studios since the early nineties, she has become an integral part of recording sessions for top-line artists. Her clients include Paul McCartney, James Taylor, Bob Dylan, John Mayer, Jack White and Michael Bublé, to name a few.
SHAKARI "TRAKGIRL" BOLES
Shakari "TRAKGIRL" Boles is a versatile and dynamic music producer, songwriter, entrepreneur, tech enthusiast. Recent works include Jhene Aiko's "Overstimulated", Luke James' "Bad News", "Pearls", & "Black Jesus", Harlem's Crystal Caines, King Chip's "Queen", co-produced by DJ Dahi and AX Diamonds, "Mansions on the Moons", "Where You Are", and "Recover" by Anais Aida. TRAKGIRL also launched lifestyle brand, PAY US TODAY, promoting fair pay and business practices for creatives and producers. She has been featured in BET's new digital docu-series "Beauty & The Beats", NYLON, L.A. Times, ID magazine, The Fader, Complex, Huffington Post, Saint Heron and more.
TERRI WINSTON
Terri Winston is Founder and Executive Director of Women's Audio Mission and a former Professor and Director of the Sound Recording Arts Program at City College of San Francisco. Her career as a songwriter, composer, recording engineer, and producer spans 30 years. Winston was signed by Polygram and BMG, and has shared the stage with P.J. Harvey, Pixies, Throwing Muses, Flaming Lips and Fugazi. In the studio she has worked with Lenny Kaye of the Patti Smith Group, Greg Hawkes of The Cars, Kronos Quartet, St. Lawrence String Quartet, Wu Man, and Tanya Tagaq. Winston holds a B.S. in Electrical Engineering from Purdue University.