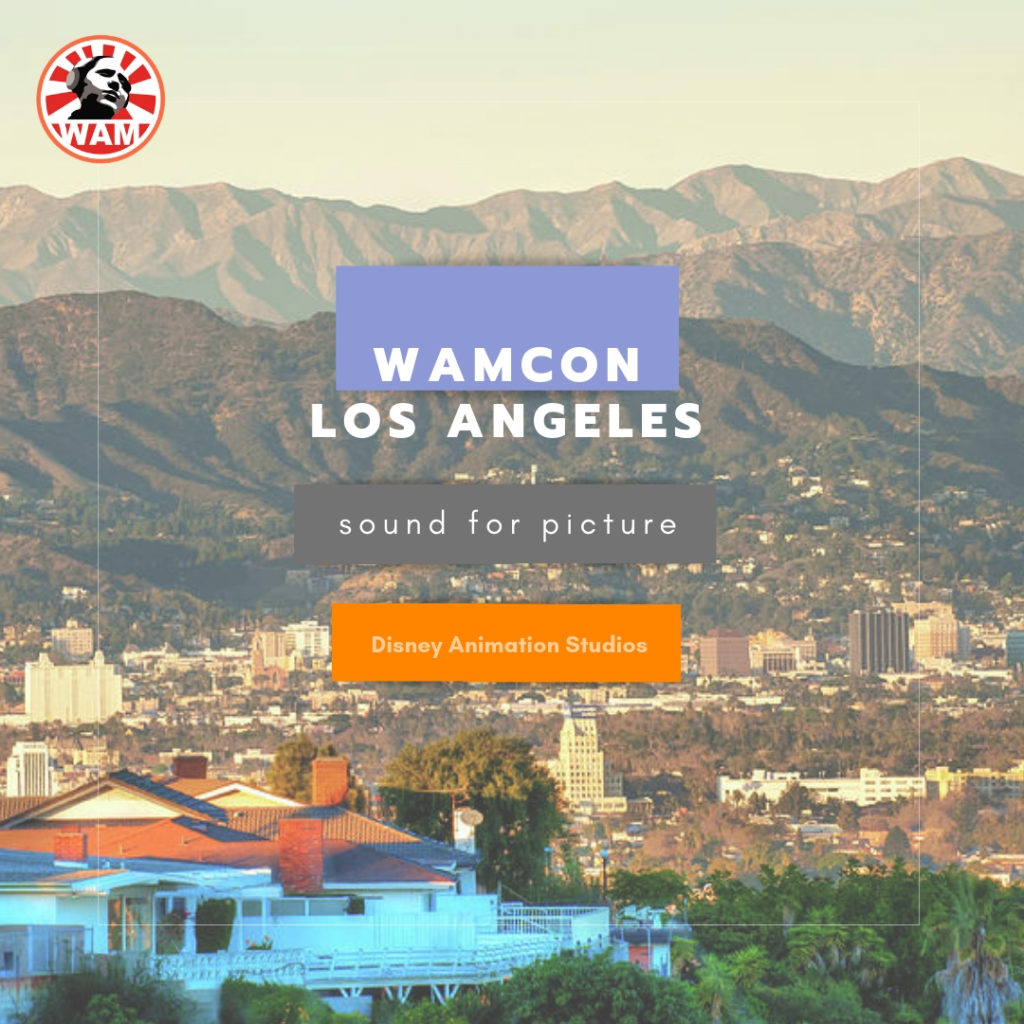 WAMCON LOS ANGELES: SOUND FOR PICTURE
WAMCon Los Angeles: Sound for Picture is a recording arts conference for women (including transgender or cisgender; non-binary and gender non-conforming individuals) presented by Women's Audio Mission (WAM). WAMCon Los Angeles is generously hosted by Disney Animation Studios and Dolby Laboratories, and sponsored by Dolby, Disney, Spotify, Eventide, Epidemic Sound, iZotope, Shure, and Universal Audio.
Don't miss this behind-the-scenes experience with award-winning post-production sound professionals for animation, film, TV and games. As demand continues for sophisticated, creative sound design and advanced scoring techniques for all types of media, thousands of jobs are being created in these multi-billion dollar industries. Come learn and network with the best of the best in amazing post-production facilities.
This event is perfect for anyone interested in sound design, production sound, dialog and music editing, re-recording mixing, as well as musicians and students interested in the recording, film, animation and television industries. To date, WAMCon has been presented in cities around the country like New York, Los Angeles, Nashville, and Boston, in collaboration with such partners as Dolby, Disney, Universal Music Group, Capitol Studios, YouTube, The Recording Academy, iZotope and more.
Special note: Friday evening's conference location will be announced via e-mail to ticket holders at the request of our host.
SPEAKERS
Berenice Robinson, 

VP, Post-Production, Walt Disney Animation Studios
Annlie Huang, Re-Recording Mix Technician, Walt Disney Animation Studios
Fabienne Rawley, Editor, Walt Disney Animation Studios

Kendall Demarest, Associate Music Editor, Walt Disney Animation Studios

David Fluhr, Re-Recording Mixer, Walt Disney Animation Studios
Jurgen Scharpf, Lead Audio Mixer, Dolby Laboratories
Kate Finan, Owner, Supervising Sound Editor, and Re-Recording Mixer, Boom Box Post
Katie Maynard, Sound Editor, Boom Box Post
Terri Winston, Executive Director, Women's Audio Mission
_____________________________________________________________________
_____________________________________________________________________
SCHEDULE
Thursday, August 15, 2019 – 6:30pm – 10:00pm
Location: Ace Hotel, 929 S Broadway, Los Angeles, CA 90015
6:30pm – 10:00pm -Epidemic x WAM Dance Party feat. music by Y3LDA and Sarah, the !llstrumentalist

**Separate RSVP required. Register HERE. 
—
Friday, August 16, 2019 – 5:30pm – 8:30pm
Location: To be announced via e-mail to ticket holders prior to the event.
5:30pm – 6:30pm – Registration and Reception
6:30pm – 6:45pm – Welcome by Women's Audio Mission
6:45pm – 7:35pm – Panel with Lora Hirschberg and Onnalee Blank
7:35pm – 8:25pm – Sound Design Demo and Discussion with Boom Box Post
Saturday, August 17, 2019 – 9:30am – 7:00pm
Location 1: Walt Disney Studios, 500 S Buena Vista St, Burbank, CA 91521
9:30am – 10:00am – Registration at Walt Disney Studios
10:00am – 10:30am – Presentation by Berenice Robinson
10:30am – 12:00pm – Workshop with Fabienne Rawley and Kendall Demarest (Group 1)
Workshop with David Fluhr and Annlie Huang (Group 2)
12:00pm – 1:00pm – Lunch at Buena Vista Commissary
1:00pm – 2:30pm – Workshop with Fabienne Rawley and Kendall Demarest (Group 2)
Workshop with David Fluhr and Annlie Huang (Group 1)
2:30pm – 2:40pm – Short Break
2:40pm – 3:15pm – Workshop with Lora Hirschberg (Group 1)
Q & A with Conference Speakers (Group 2)
3:15pm – 3:25pm – Group Transition
3:25pm – 4:00pm – Workshop with Lora Hirschberg (Group 2)
Q & A with Conference Speakers (Group 1)
Location 2: Dolby Laboratories Screening Room, 3601 W. Alameda Ave., Burbank, CA 91505
5:00pm – 7:00pm – Reception and Dolby Atmos for Picture Workshop with Jurgen Scharpf
_____________________________________________________________________
_____________________________________________________________________
WAMCON LOS ANGELES SPONSORS