WAM Internship Application
WAM Internship Outcomes, Key Responsibilities and Requirements
Our Internship program is widely recognized in the audio and music production industries for the caliber of training, range of activities, overall experience, as well as job placement opportunities. Past interns have gone on to positions with such companies as Dolby, Pixar, Apple, Sony, Google, and Pandora, as well as most of the premier venues for music and performance in the San Francisco Bay Area.
Please read the requirements and important dates listed below and click the Apply Here button to continue to the application. If you have any questions, please reach out to education@womensaudiomission.org.
WAM Internship Program Goals:

Build confidence levels, communication skills, and personal versatility in the audio industry

Develop interpersonal connections for networking and community support

Gain hands-on studio training

Create career pathways for future employment opportunities
IMPORTANT DATES: Check your calendar! You must be available on these dates to be considered eligible for the internship.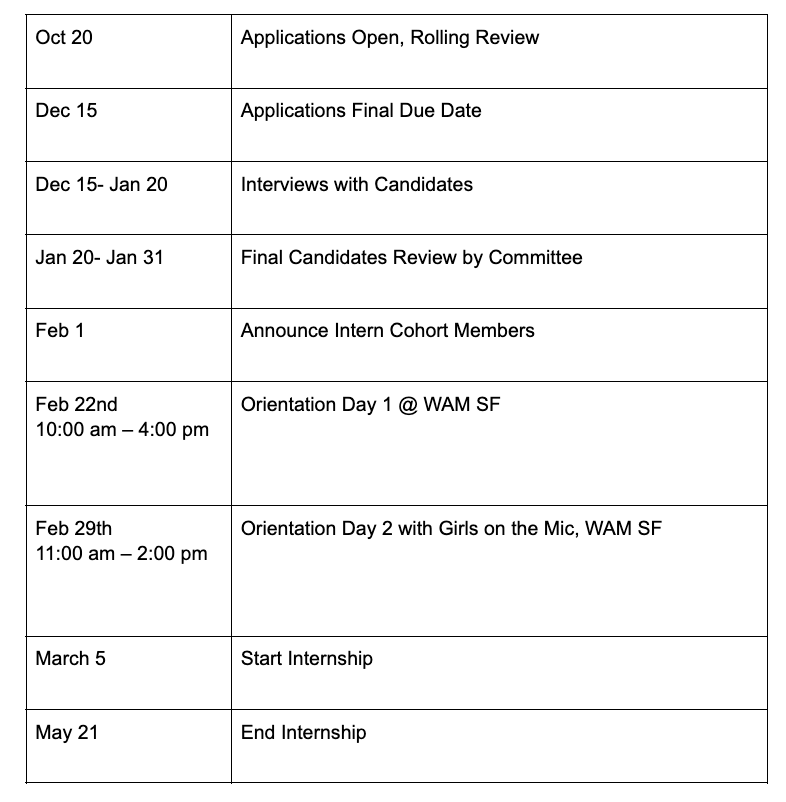 Women's Audio Mission (WAM) selects interns three times per year, in the Spring, Summer, and Fall. Approximately 5-10 interns are selected each term through a competitive pool of applicants from around the United States. The Internship is open to women (transgender or cisgender) and non-binary/gender-expansive folks over the age of 18, and recommended for those 21 years and older. Unfortunately, we are unable to accept international applicants at this time.
COVID-19 Precautions: WAM requires all staff and interns to be fully vaccinated against COVID-19.
Is this Internship a fit for you?
To see if this is a fit for you,  please read this information and the schedule below closely.
Please review this list carefully to ensure you are available for all the dates and hours required to fulfill the internship duties. We can only consider your application if you meet all the requirements. We value your time and want to maximize it by making great connections with your cohort and the WAM team and learning as much as possible in your time with us. This is an exciting opportunity, and we don't want you to miss a minute!
TIME COMMITMENT AND AVAILABILITY REQUIREMENTS:
***Commitment of a total of 18 hours per week, Monday – Friday (PDT), in person, virtually, and some evenings and weekends when classes, sessions, and events are scheduled.***
Required hours means: Be available to attend in-person workshops, skills training, and educational programs.
We do our best to work with your schedule! Keep in mind as an intern, you'll likely support one Girls on the Mic class series weekly, and one Adult class series weekly (or a two-day class on a weekend), spanning the 8-14 weeks of the Internship. They often overlap, and we ensure you are able to do both in a way that is manageable for your schedule. NOTE: Most of our programs and workshops will take place in San Francisco. Occasionally we have an Oakland event or Girls on the Mic course. 
REQUIRED/ANTICIPATED SCHEDULE
Intern Workshops Tuesdays from 10:00 am – 2:00 pm

– Intern Skills Workshop in SF 

Intern Workshops Thursdays from 10:00 am – 2:00 pm

– Intern Skills Workshops in SF 

Intern Virtual Workshops

Mondays & Fridays- activities can be done on your own schedule on Mondays and Fridays.

Girls on the Mic (GOTM)

hours are usually between  2pm – 6:00 pm for either a lunchtime school program OR an after-school program. It depends upon the partners we are serving that term. We ask that all applicants are open and available to work at least 1 desired school. See responsibilities below.

Adult Education Classes

run on in person weeknights from 6:00 pm – 9:30 pm and weekends 9:00 am – 2:00 pm in SF. See responsibilities below.

Ability to attend in-person training and meetings

in the San Francisco Bay Area

Ability to attend in-person, exclusive tours

(this will happen on Tuesdays or Thursdays) with local Bay Area audio industry leaders (Dolby, Meyer, etc.)

Be available to regularly attend virtual and in-person meetings

in supporting Girls on the Mic classes and Adult Education classes; hours vary.

Commitment to attending engineering shadowing appointments

if that is your pathway of choice. These are incredible and rare opportunities to observe (shadow) audio industry partners working live events, recordings, and more!
GOTM Responsibilities: You will support GOTM instructors as a classroom assistant in WAM's free audio program for middle & high school girls and gender-expansive youth. Some duties may include: engaging with students positively, supporting the setup and breakdown of class materials, and supporting classroom management. Interns may also work with instructors to occasionally co-lead audio activities or icebreakers. In collaboration with the instructors, the interns will become an integral part of the youth's learning community. This is a weekday school program, and an intern presence is required to help meet your 18-hour weekly commitment. Classes take place in SF or Oakland and typically are 1 to 1.5 hours for 13 weeks. Hours and locations may vary, but the classes usually occur during and after school. We can work to match you with a time that fits your schedule. A minimum of once a week with GOTM is required. This is an integral component of the Internship and is a massive support to WAM's mission to amplify the voices of girls and gender-diverse youth!
Adult Education Classes Responsibilities: Each intern will be able to assist and support the WAM Adult Education classes. These classes are taught by incredible leaders in the audio industry. Schedule may vary from early weekday evenings to morning weekend days.
OTHER REQUIREMENTS
Passion and commitment to working in the audio industry – even if you're unsure what kind of work you want to do in audio, this program will help you discover that!

Minimum of 1 year of experience working with youth and a passion for their educational success

A minimum of 1 year of audio education (or equivalent if you have taken WAM Adult classes- please note this in your intern application)

Support WAM's mission of changing the face of audio

Ability to work independently

Facility in operating a standard computer (Mac or PC)

Recommended for 21 years of age or older

Completed or willingness to complete mandated reporter training

TB Test

Proof of COVID-19 vaccination
NOTE ABOUT EMPLOYMENT AND PAY:
This is an unpaid internship with a stipend of $2500 available at the completion of the Internship for all of those who have completed the program and the required intern hours. This is not paid work and not employment by any terms. Women's Audio Mission is an equal employment opportunity employer.
https://www.womensaudiomission.org/wam-internship-program/