Date/Time: July 12th, 2018 6:30pm-9:00pm
Location: Neato Mastering, 634 2nd Street, Oakland CA 94607
Cost: $35 for WAM members/ $50 for non-members – Grab your tickets here!
This class will cover the basics of mastering – why it is done, the process, deliverables, metering, monitoring, and playback codecs. There will be some before and after-mastering listening, and a brief exploration into the history of mastering formats and processes.
There are limited seats available for this event – sign up today!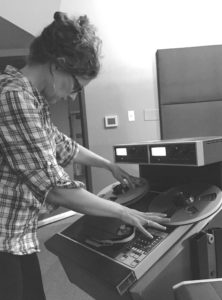 Jessica Thompson bio:
Jessica Thompson is a GRAMMY-nominated mastering and restoration engineer and audio archivist working in the San Francisco Bay area.
Her remaster of Erroll Garner's iconic live performance The Complete Concert By the Sea (Sony/Legacy) was nominated for Best Historical Album GRAMMY, 2015.
She has remastered, restored, and revived historic recordings from the Bottom Line, Caffè Lena, Woody Guthrie, Erroll Garner, and Barbara Dane Archives, and the Ash Grove and the Newport Jazz and Folk Festival archives, including performances by Pete Seeger, Roger McGuinn, Lightnin' Hopkins, Doc Watson, Miles Davis, Jean Ritchie and Dave Von Ronk. She has cleaned, digitized and restored rare vinyl and cassette recordings for Awesome Tapes from Africa (Ata Kak, Hailu Mergia) Manufactured Recordings (Beach Bullies, California Playboys), Smithsonian Folkways (Barbara Dane), and several Numero Group compilations. And she has mastered new records for Ron Pope, Michael Daves, The Grassy Knoll, Los Dreamers, Sean Costello, Cultfever, Kim Taylor, Chris Riffle, Natalie Merchant, and Train.