WAM Internship Program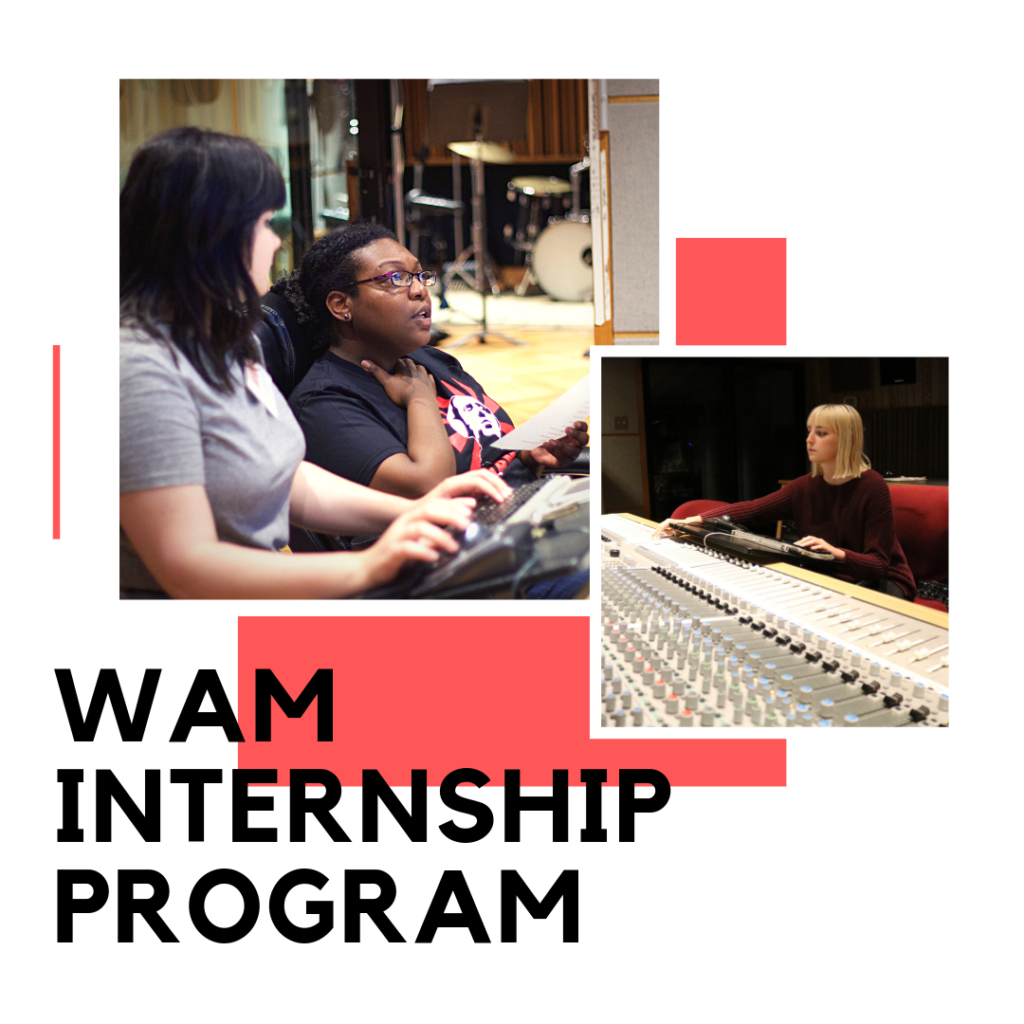 Applications for the Summer 2021 Virtual Internship are now open!
Important Dates
Application deadline – May 5
Virtual interviews – May 10-17
Internship start date – May 24
End of internship – August 12
__
Our internship program is widely recognized in the audio and music production industries for the caliber of training, range of activities, overall experience, as well as job placement opportunities. Past interns have gone on to positions with such companies as Dolby, Pixar, Apple, Sony, Google, and Pandora, as well as most of the premier venues for music and performance in the San Francisco Bay Area. 
Due to shelter in place regulations, we have transitioned to a fully virtual internship program until further notice. The virtual internship is designed to educate and train individuals to enter the new world of audio. 
Our virtual program learning outcomes are as follows:
To build confidence levels, communication skills, and personal versatility in the audio industry. 

To develop interpersonal connections for networking and community support.

To gain experience navigating a virtual workspace and operating online communication/learning platforms. 

To create career pathways for future employment opportunities. 
WAM's Internship Program is open to women (transgender or cisgender) and non-binary/gender non-conforming individuals over the age of 18. Unfortunately we are unable to accept international applicants at this time. 
Women's Audio Mission (WAM) selects interns three times per year, in the spring, summer, and fall. Approximately 5-10 interns are selected each term through a competitive pool of applicants from around the world.

KEY RESPONSIBILITIES:
Assist WAM instructors with Virtual Girls on the Mic classes

Assist WAM instructors with virtual adult classes, workshops, and member meetings

Assist with WAMEverywhere events, including fundraisers, donor events, and performances

Assist with non-profit administrative tasks, including operations, marketing, fundraising, and other activities 

Attend weekly events and professional development sessions with Intern Manager, industry leaders, artists, and more. 

Work independently on personal audio, music, or related project developed at the start of the internship

Develop professional portfolio
JOB REQUIREMENTS:
A minimum of 1 year of audio education

At least 18 years of age or older

Commitment of ~18 hours/week Monday – Friday (PDT), as well as some evenings and weekends when classes, sessions, and events are scheduled. 

Passion for the

mission of WAM

Ability to work independently

Minimum of 1 year of experience working with youth

Facility in operating a standard computer (Mac or PC)

Completed or willingness to complete mandated reporter training

Possible use of personal telephone
PREFERRED SKILLS AND EXPERIENCE:
Fluent in Pro Tools HD

Experience with audio equipment

Soldering skills
ADDITIONAL INFORMATION:
Should you have any questions about the application or Internship Program, you may contact Chanelle Ignant, Intern Program Manager, at

cignant@womensaudiomission.org

Should you be considered a potential fit for the Virtual Internship Program, WAM will contact you to set up an interview

This internship is currently a volunteer (unpaid) position

Check out where past interns are now on our

Intern Alumni page
Thank you for your interest in our internship program, and we look forward to hearing from you soon!