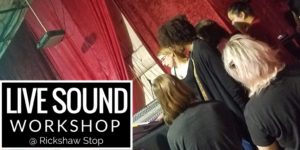 Date/Time: February 18, 2017 11:00am – 5:00pm with a lunch break
Location: Rickshaw Stop, 155 Fell St, San Francisco CA 94102
Price: $60 for WAM members/ $85 for non-members
This class is open to anyone who is woman-identified (transgender or cisgender)), non-binary or gender non-conforming.
Here's your chance to gain knowledge in live sound in a professional environment, without the stress of an audience!
In this class, you will:
Learn the basic components of a live sound venue
Gain an understanding of the signal flow of live sound, from source to speakers
Understand the role and dutes of a live sound engineer
Practice sound check and mixing for a concert
Learn the pacing of a live show
Practice working with signal processors (compressors, gates, effects)
Have access to hands-on training in a mock-concert environment, in one of the best sounding venues in SF!
Thanks to our partner Rickshaw Stop for allowing our members this unique opportunity!