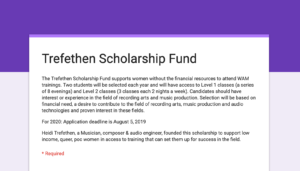 A new scholarship is available to fund 2 people through WAM Level 1 & 2 trainings!
The Trefethen Scholarship Fund supports women without the financial resources to attend WAM trainings. Two students will be selected each year and will have access to Level 1 classes (a series of 8 evenings) and Level 2 classes (3 classes each 2 nights a week). Candidates should have interest or experience in the field of recording arts and music production. Selection will be based on financial need, a desire to contribute to the field of recording arts, music production and audio technologies and proven interest in these fields.
For 2020: Application deadline is August 5, 2019
Heidi Trefethen, a Musician, composer & audio engineer, founded this scholarship to support low income, queer, poc women in access to training that can set them up for success in the field.