Pro Tools 101 teaches the fundamentals of using a Pro Tools system, the digital audio workstation (DAW) most used in professional recording studios. Learn to build sessions that include multitrack recordings of live instruments, MIDI sequences, and virtual instruments and develop essential techniques for recording, editing, and mixing. Learn keyboard shortcuts, plug-ins, automation, importing and exporting audio, and more! Register here. 

This course is based on the Pro Tools 101 textbook available here.

This is at WAM Oakland, not San Francisco! Our space is a 10 minute walk from Fruitvale Bart in the Unity Council building.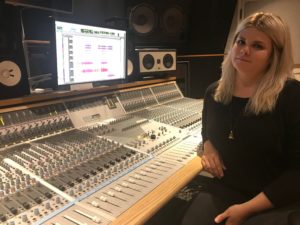 Instructor: Veronica Simonetti
Veronica's role at Women's Audio Mission includes engineering in the studio, teaching classes to youth and adults, as well as managing WAM's various facilities.
Veronica has had the honor of recording a wide variety of audio at WAM's studio. She has worked with many musicians including Meklit Hadero, Versoul (FKA Babii Cris), St. Lawrence String Quartet, Jessie Farrell, Lia Rose, Mariachi Femenil Orgullo Mexicano, Sonita Alizadeh, and FR333. She has also recorded a plethora of audiobooks, podcasts, and voiceovers for clients including Hachette Book Group, Simon and Schuster, National Geographic, Remembering Camp Trans, Reasonable Doubt, Webby Awards Podcast, and Pitch Makeover.
In addition to engineering at WAM, Veronica is a live sound engineer at the Verdi Club and SOMArts, an audio preservationist at the Bay Area Video Coalition, and a listening test participant at Dolby Laboratories. Veronica interned for WAM before graduating from the Jacobs School of Music at Indiana University with a B.S. in Recording Arts. She then moved to San Francisco and has been working with WAM ever since. veronicasimonetti.com